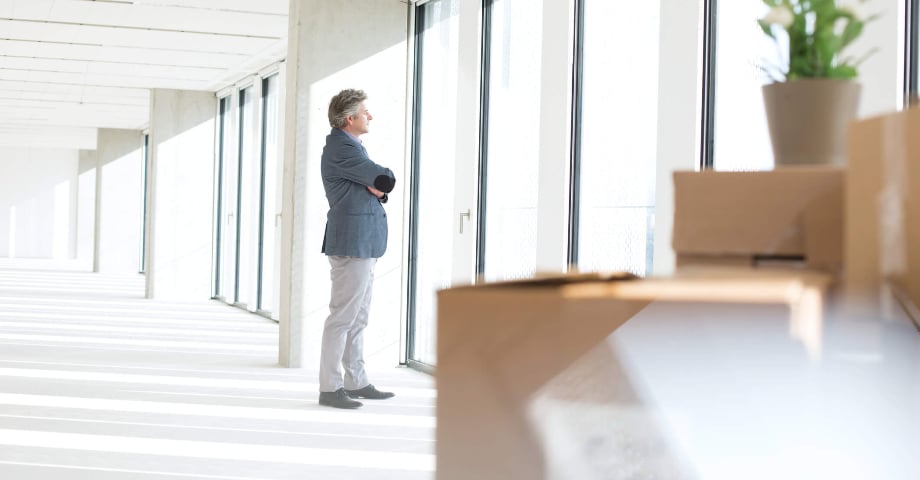 Relocating any business is a big undertaking. Not only do you have to pack up the desks and move the file cabinets, but you also have to transfer all the technology that is critical to operations, from the photocopier and fax machine to the computer network. Establishing a new data center is likely to be the most expensive part of any move and the most critical to operations. That's why you need to carefully review data center design and develop a strategy that is fast, cost-effective and extensible, because data demand is sure to increase.
Right-sizing any data center is a common challenge. The amount of global data traffic will have expanded 127 times between 2005 and 2021, and IDC predicts that there will be 175 zettabytes of data worldwide by 2025. With data expanding at an exponential rate, increasing demand for big data analytics is putting more strain on data centers. In fact, 79 percent of executives believe that failing to invest in big data will cause their businesses to fail, and 83 percent of companies are investing in big data projects. The increase in data and data analysis processes means data center design has to take into account future demand, even if you can't predict exactly how much you will need to expand in the future.
How Much Data Center Do You Need?
As part of data center design, you have to consider the organization's immediate computing needs and be able to accommodate future requirements. For most companies, that usually means overprovisioning and allocating more infrastructure than they need today, hoping that it's adequate for future needs. With the cost of office space buildouts ranging between $120 and $216 per square foot, that's an expensive solution. A better strategy is to design for your immediate data processing requirements and plan to be able to expand in increments, as needed.
The first step is to assess your current computing demands before you consider future needs. You need to have a clear idea of computing capacity, security, power, telecommunications and more. In fact, moving to a new office space provides an ideal opportunity to upgrade and expand outdated systems, while ensuring you have adequate capacity, with room for expansion.
Planning Is Everything
A successful data center move is the direct result of a careful, advanced planning process. Before you embark on a data center relocation project, consider the following strategies:
Start with a relocation plan – You want to develop a comprehensive plan with specific budgets and timetables that take into account every aspect of the relocation. Determine what needs to be moved, assess all the risk factors and establish a timetable of what needs to be moved, in order. Also, be sure to establish criteria for success, such as making sure that business-critical systems and software are up and running as they were previously or better, in time to support the new office.
Model your move – Many IT teams still use spreadsheets and manual checklists, which can create problems with oversights and version control. If you can, consider creating a virtual buildout. Often, data center migration teams rely on spreadsheets or using software such as Visio, which quickly become outdated. Data center infrastructure management (DCIM) software really helps in building out a virtual model, tracking assets and change management, and providing monitoring so you know your data center is running properly following the move.
Create a step-by-step schedule – Each step needs to be completed in sequence for a successful move. Break down the move into individual steps and components, while assigning a timeline for each step. Be sure to allocate enough time for system testing and troubleshooting to make sure systems are operational and applications are up and running as expected.
Validate your infrastructure – Be sure you have sufficient space for racks and hardware. In particular, be sure you have adequate power. Check the power capacity for each rack and row, and be sure you have enough power for failovers and future expansion. Also, verify other infrastructure concerns, such as cooling capacity.
Label everything – Be sure to identify each piece of equipment to show where it goes and who owns it. You can use a combination of color and alphanumeric codes, but be sure it is easy to follow. Consider paper printouts that can be shipped with the hardware, explaining location and connections.
Determine what data to move – To minimize the impact on business operations, some data sets may need to be accessible during the move. Consider using a parallel environment to maintain business continuity. Also, back up all critical data, in case there is data lost or damaged in the move.
Prep the new site – Most moves take place outside of business hours to minimize disrupting operations and downtime and under tight deadlines. Be sure to have all the racks in place in advance, including rail kits and blank panels in front of reserved space to shorten installation time. Also be sure that network services are up and running prior to the move to avoid downtime.
Create a work order for each asset – You can't be sure who will be handling the final installation, so use work orders with simple instructions that detail the equipment location, network and power cables, panel and port switches and other critical component considerations.
Conduct a post-migration inspection – Double check the physical layout once the move is complete. You can use DCIM software to take inventory of all your data center assets, including locations. Be sure to also implement performance testing to make sure everything is working properly.
Modular Data Center Design Offers Flexibility
Modular construction offers an ideal approach to extensible data center design, no matter if you are looking at an on-premise data center, a colocation facility or a hybrid approach:
Modular data centers are right-sized – Using a modular data center approach means you can right-size data center capacity and physical size. When moving into a new building, you are never sure what you may encounter. For example, there may be low ceilings, an awkward floor plan, or conventional hardware won't fit in the freight elevator. With a factory-built data center, you can design it to suit the space.
Modular means extensible – Modular designs are more compact, but they also can be extended. Once you have a design for a specific module, you can replicate that design to add capacity as needed. You can install what you need today and add capacity tomorrow or in the future, as needed.
Shorter time to deploy – Using a modular data center design can cut construction time by 30 percent, which is important when downtime costs your company money. Due to the components being factory-built and tested, they arrive ready to install, which takes a fraction of the time required to wire a conventional data center.
Overprovisioning or planning for more space than you may need is wasteful and costly. A better approach is to right-size your data center by specifying the modular data center components you need today and building out as needed. In addition, if you have to move offices again, it will be faster and more cost-effective to disassemble and transport a modular data center, than it would to start building from scratch.