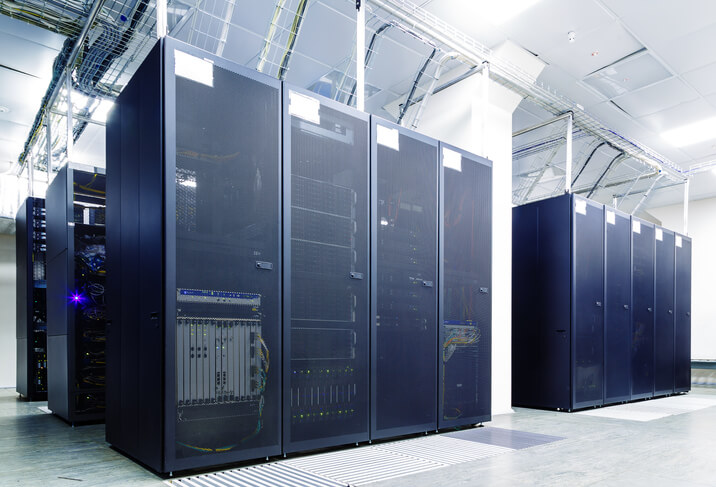 As businesses become more data-driven, demand for ready access to computing power continues to expand. Due to this climate, data centers are in extremely high demand. However, setting up a data center is not a trivial task. In addition to constructing a secure building, you have to install cooling systems, wiring, redundant power, high-speed data connections, and more. And while you are waiting for that new data center, your business may be losing its competitive edge, due to a lack of access to critical data and analytics. The faster you can get your data center up and running, the sooner you can make data-driven business decisions.
The two greatest impediments to setting up a new data center are cost and time to deploy. Traditional data center construction is expensive and takes a great amount of time to complete. But modular data centers deliver the same quality and capabilities at a lower cost, and in a fraction of the time. That's why more businesses are adopting prefabricated modular data centers for business-critical applications.
The Evolution of Modular Data Centers
The concept of installing prefabricated, self-contained data center modules certainly isn't new. We have seen modular data centers used for mission-critical computing applications on oil platforms, and in the field for military applications, for more than a decade. Today, the concept of delivering a prefabricated modular data center has evolved. It can be a self-contained pod or container that can be dropped on concrete slab, or a modular skid installed in existing data center. No matter their actual configuration, these modular data center units are self-contained and delivered ready to go. Due to this, more organizations are seeing the benefits of including prefabricated modular data centers as part of their converged, computing architecture.


Benefits of Modular Data Centers
Here are just of few of the benefits of deploying modular data centers:
Time to deployment – The great thing about using a prefabricated data center is that they come custom configured and ready to go. All the engineering, construction, and testing is performed off-site, so the unit arrives ready to power up and commission. By eliminating the steps required for on-site construction, such as approvals, building permits and site preparation, you can cut installation time by 30 percent or more.
Lower cost to operate – Modular data centers are generally more efficient and less expensive to operate. This is because all the components have been chosen for tight integration, which means fewer subsystems. Also, more than half of a conventional data center's energy costs go to power the chillers. But with a modular data center, you have a more compact space that is more energy efficient and requires less cooling power.
Smaller operational footprint – With data center real estate costs running as high as $4,000 per square foot, taking up less space clearly saves money. Using a modular data center approach also allows users to build out as needed, adding additional modules and even stacking them to take up less space.
High density and low PUE – Although it is modular, prefabricated data centers are fully operational and completely self-contained. They come complete with servers, data storage, power lines, internal monitoring, software, security, cooling, and even fire detection. These plug-and-play data center modules exhibit an extremely low power usage effectiveness (PUE).
Mobility – In addition to being fast to set up, modular data centers are portable, or in most cases, mobile. They can be delivered almost anywhere, even as pieces that can be quickly reassembled on site. This is not only useful for new office buildings or locations that need fast access to computing services, but it's also useful for disaster recovery and other applications, as clients need a data center up and running as quickly as possible.
Compatible and scalable – Since modular data centers are built in advance, system compatibility is guaranteed. There is no issue mixing and matching servers, UPS, switchgear and other components into a single ecosystem; the system has already been built and tested. Scaling the system is inherently easy, because it is a standardized and repeatable design; scaling up simply requires more modules.
Flexibility – Even though it is preconstructed, data center modules are still fully customizable. This means you can specify the hardware for inclusion or use your own for whatever configuration suits your requirements. Everything can be assembled to order, including cooling, lighting, and power; even security systems can be set up to use keypad, RFID, or biometric access. Plus, with custom hardware and software, you still shorten time to deployment and cut setup costs.
There are a multitude of other modular data center advantages as well, but the real benefits for most end users stem from reduced time and cost. Going modular means you can set up your data center almost anywhere, in a fraction of the time it would take to construct a facility, and the cost of building a preconfigured data center will always be less than building from a concrete pad. As demand for more data and analytics continues to drive today's business, more organizations are going to be looking for more computing power. Which means more modular data centers will be installed to meet this critical need.