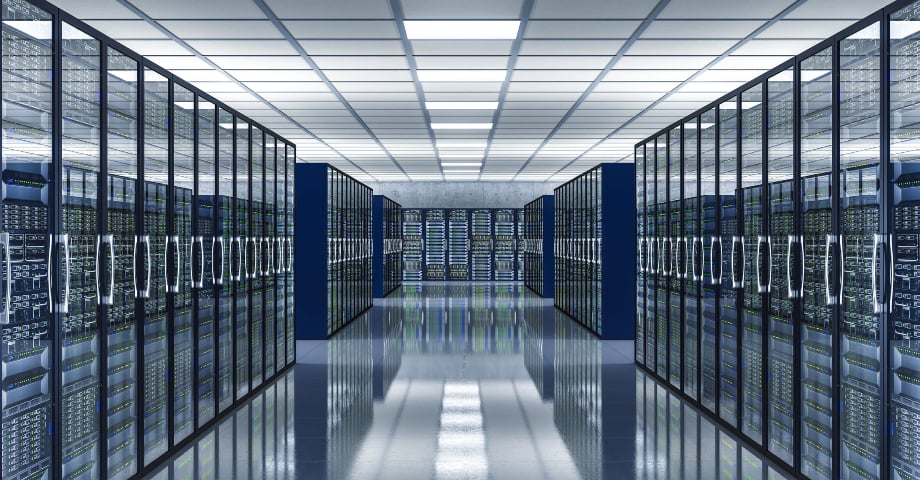 The need for more data and processing power is driving demand for hyperscale data centers. Today's organizations are suffering from an overabundance of data. Cloud adoption is creating demand for hyperscale data centers to deliver added capacity, virtually on demand. With more than 43 billion devices worldwide expected to be connected by 2023, real-time data processing is also needed to support the Internet of Things (IoT). As more data needs to be processed and analyzed faster, the need for more hyperscale data centers will continue to grow.
When we talk about hyperscale data centers, we are talking about a newer breed of data center. Originally, data centers were mostly concerned with consolidating data storage and data processing in servers, within a single warehouse. Hyperscale data centers, on the other hand, are designed for scalability and to facilitate access to distributed data.
According to Synergy Research, there were 390 hyperscale data centers in operation at the end of 2017, and 44 percent were in the United States. Today there are more than 500 hyperscale data centers in operation, including 38 percent in the U.S. and 32 percent spread across China, Japan, the United Kingdom, Germany and Australia. In addition, 70 percent of internet and cloud service providers, such as Amazon and Microsoft, lease their hyperscale data center operations from commercial data center providers.
The Impact of Demand for Hyperscale
The growth of hyperscale data centers means bigger and better data center campuses. Currently, the big internet service and cloud providers lease 70 percent of their hyperscale data center capacity to commercial data center providers. So even though we are seeing rapid growth in hyperscale data center construction, we also are seeing data center consolidation with bigger campuses that require more real estate and take more time to complete.
One of the biggest data center contracts to date is the $10 billion JEDI project, which was recently awarded to Microsoft. The contract calls for Microsoft to transform the Department of Defense cloud computing system over the next 10 years, with the help of newly constructed hyperscale data centers.
As more multimillion-dollar data cloud contracts are put out for bid, more giant data center campuses are being built. Google, for example, announced that it will be spending $13 billion to build new data center campuses in Texas, Ohio, Nevada and Nebraska. Apple is also spending $10 billion on new U.S. data centers, while Facebook has been expanding with five new data center cloud campuses in just 15 months, over 2017 and 2018.
And it's not just the big cloud service providers that are ramping up hyperscale data center construction. Increased demand for colocation and managed hosting services are creating projected incremental growth of $23.74 billion between 2019 and 2023, and though much of that growth is consolidated in a few big companies, there is still plenty of demand from smaller players.
With increased competition comes shorter construction deadlines. Most data centers take 18 to 24 months to complete, but customers want new colocation and computing capabilities now. With increased growth of data center campuses in locations such as Atlanta, Chicago, Miami and Washington, D.C., the cost of real estate is at a premium as well. Data center operators are looking for new construction methods to shorten time to completion and reduce the size of their real estate footprint, while still promoting greener construction methods at reduced costs. This exemplifies why more contractors are adopting modular data center construction strategies.
Modular Construction Meets Hyperscale Data Centers
Modular data centers are an ideal solution for hyperscale construction. By engaging a modular data center manufacturer, you can outsource data center construction at a fraction of the cost, get delivery in a fraction of the time and still end up with a customized, scalable hyperscale solution.
Shortening time to completion means shortening time to revenue, and our experience has been that with modular design, you can cut construction time by 30 percent. Modular data centers also tend to be about two-thirds the cost of stick-built data centers because factory assembly makes it easier to control construction costs and it eliminates delays due to weather and other factors. Modular data centers are also more compact and can be installed in a parking lot, or even inside a colocation facility, depending on your needs.
Perhaps most important of all, modular data centers are completely customizable and scalable. Capacity is determined in advance, prior to assembly; and once the finished modular data center is delivered, capacity can still be added as needed, either by adding modules or even an additional modular data center.
5G Wireless Untethers Hyperscale Data Centers
New 5G wireless technology also enables lower latency data connections, which can handle real-time data traffic, such as for IoT. This means hyperscale data centers are no longer tied to fiber links or big data center campuses.
5G wireless can cut latency to one or two milliseconds, which means anywhere you have 5G wireless access, you can install a hyperscale data center. Where 4G wireless can support about 4,000 devices per square kilometer, 5G can support one million, making wireless networking viable to manage large infrastructures, such as smart cities. Modular data centers can be installed almost anywhere to deliver scalable hyperscale computing support for these types of applications.
As companies scramble to find more computing power, you can expect to see more modular data centers supporting hyperscale computing. Manufactured data centers make it easier to shorten delivery time, control costs and manage scalable capacity. As we see more high-speed wireless connectivity, you can expect to see more modular data centers being deployed, as localized solutions bring hyperscale computing capacity to your back door.