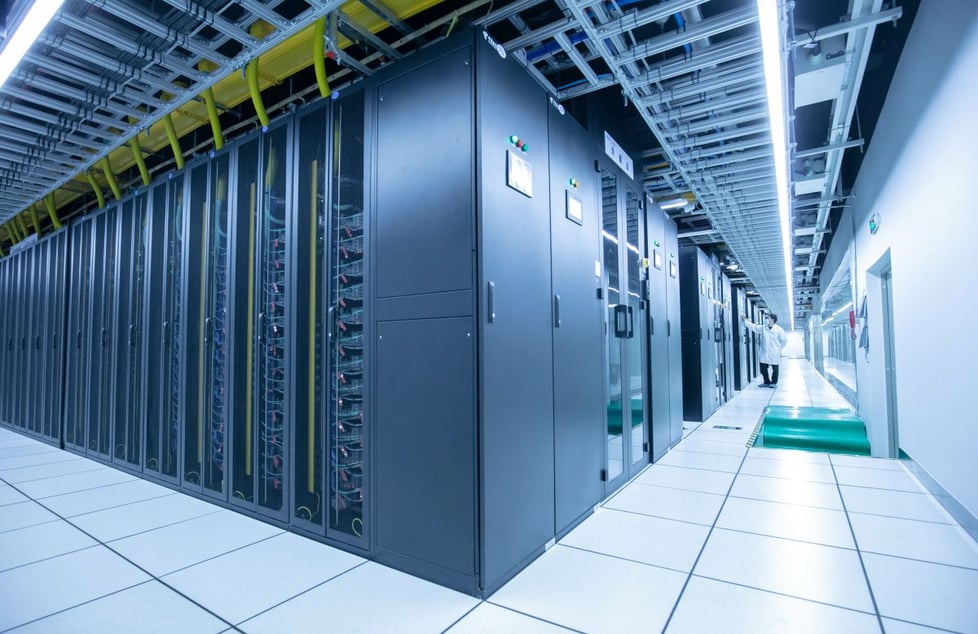 At some point today, you have probably used one or more applications owned by Google, Amazon, Microsoft, IBM or Meta. And you are just one of the billions of users who have or will access these applications today.
These technology giants are ubiquitous in our daily lives, but how do they make engaging with their products appear seamless as an unimaginably large volume of data is being transferred, processed and stored by the second?
Hyperscale data centers make this level of computing power possible. Let's learn more about these expansive facilities and what sets them apart from other types of data centers.
What is a Hyperscale Data Center?
Hyperscale facilities are just one of several different data center types.
Although there isn't a formal definition for what constitutes "hyperscale," the consensus is that a data center is hyperscale if it spans at least 10,000 square feet, contains at least 5,000 servers and offers at least 40MW of capacity. That said, many hyperscale data centers go well beyond these minimum thresholds, spanning more than a million square feet.
Hyperscale data centers aren't just big—they're also intended to scale up quickly to meet increased demand for capacity. As a result, these facilities are designed for physical agility and operational efficiency to minimize the power consumed by the massive amount of IT computing and data processing.
The Evolution of Hyperscale Data Centers
In the past, many companies operated their own enterprise data centers. Over time, however, more companies have chosen to outsource at least part of their computing to large cloud service providers, such as Amazon, Microsoft and Google.
Additionally, demand for hyperscale data centers has increased as the world has become more connected. In fact, since 2015, the number of hyperscale data centers worldwide has more than doubled, reaching 700 by the end of 2021.
Research points to a few driving factors behind the expansion of hyperscale data centers:
Cloud Computing
As organizations shift away from traditional enterprise data centers demand for cloud computing has increased since 2020, driving the major cloud service providers to lease record amounts of data center capacity, whether already existing, proposed or under construction. In fact, datacenterHawk reports that in Q2, the North American primary market vacancy averaged 4.4 percent—its lowest point ever. This increased demand is driving up competition between hyperscale owners and limiting the growth potential for enterprise owners.
Social Media
Social media trends are ever-changing, but demand for social media services requires rapid expansion of hyperscale data centers. According to JLL's Global Data Center Outlook, U.S. market absorption hit 1,087 MW in the first half of 2022, which is more than 95 percent of the total demand in 2021.
Artificial Intelligence
Technology is changing how industries like manufacturing and logistics operate, with some studies predicting that the market for artificial intelligence and machine learning in manufacturing, distribution and sales will reach $16.2 billion by 2027—up from 2.3 billion in 2022. These new data sources and processing needs will require additional data center capacity to support Big Data analytics, automation and machine learning capabilities.
Hyperscale Edge
Low latency is essential for the optimal performance of Internet of Things (IoT) devices and technologies such as 5G. Bringing hyperscale facilities to the edge provides high speed and high bandwidth where they are needed most.
The Difference Between Colocation and Hyperscale Facilities
True hyperscale data centers are owned and occupied by only a handful of tech giants, including Amazon, Meta, Apple, Google, Netflix, IBM and Microsoft.
Some colocation facilities, such as those owned by Equinix and Digital Realty, could be considered hyperscale from a size perspective. However, these facility owners lease out space to multiple tenants, usually hyperscale customers or customers that are projected to grow into hyperscale companies, such as SAP, Salesforce, Workday, Uber, and Lyft.
There can be overlap between the two types of facilities, with some hyperscale facilities leasing space, power and network connectivity to companies looking for reliable cloud infrastructure and access to prime markets they otherwise wouldn't have.
Where Modular Construction Fits into the Hyperscale Picture
Modular construction is widely accepted as a great option for enterprise, colocation and other non-hyperscale data center types. However, even hyperscale data centers can benefit from modular construction techniques.
Larger data center owners—including hyperscalers—are increasingly looking for ways to "modularize" different aspects of their facility builds to enable rapid growth, save money and increase scalability. One of the ways hyperscale data center owners take advantage of modular construction is by installing skids, including electrical skids for power distribution systems and mechanical skids for cooling infrastructure.
[Inline CTA for the Complete Guide to Skids]
Learn About the Benefits of Modular Construction for Hyperscale Data Centers
As businesses become more digitally transformed, demand for data storage and processing and IT computing is rapidly growing. In response, demand for new hyperscale data centers is increasing accordingly.
PCX works with hyperscalers to create flexible, scalable solutions by delivering modular systems that power the world's biggest computing needs.

Want to learn more about data centers, developments in the industry and modular construction? Subscribe to our blog!