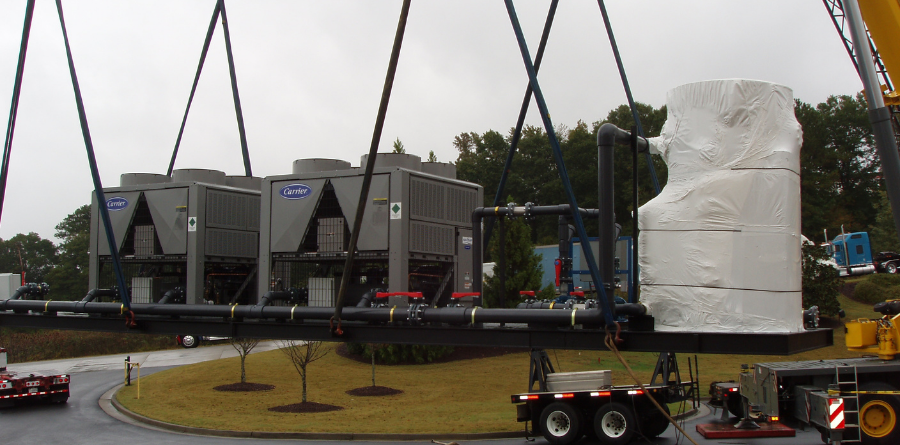 Modular data center requirements aren't one-size-fits-all, especially when it comes to heat rejection and facility cooling. This need for customized components makes skid-mounted mechanical systems ideal for a wide variety of use cases, including edge computing, colocation facilities, temporary capacity or small-scale data centers placed outside of a main facility.
Mechanical skids house all of the components needed to support data center cooling systems. In most facilities, this includes piping networks, pumps and air-cooled condensers or chillers. Some mechanical skids also house a water storage tank for short-term emergency cooling, in the event of an outage.
Four Benefits of Mechanical Skids in Modular Data Centers
Modular data center construction isn't new, but the past year's data explosion has put premanufactured facilities in high demand.
Mechanical skids are a key part of modular data center construction because they provide self-contained, ready-to-install components that integrate with the cooling system easily and quickly. But heat rejection is just one reason why mechanical skids are a core component in modular data center manufacturing.
Here are four additional reasons to include mechanical skids in new data center planning and design:
Reliable Quality
When data center owners talk about the benefits of mechanical skids, quality and reliability often are the first things mentioned. Because the skids and their components are manufactured in a controlled factory environment, there is less risk and opportunity for error, compared with on-site, stick-built construction of the same systems.
Additionally, all mechanical skids are fully tested and quality checked throughout the manufacturing process, and again before leaving the factory. A fully integrated system test is also conducted, which includes mechanical and electrical components, to ensure integrity of the system. This predelivery quality assurance mitigates the need for the data center owner to hire specialized on-site staff to test the skid prior to deployment.
Fast to Deploy
Capacity demand is at an all-time high, which gives an advantage to the facility that can deploy new capacity the fastest.
Mechanical skids are delivered to the facility site with all components in place -- prewired and preconfigured for deployment. This ensures the system is essentially ready to drop in, power up, and get to work. The field team should check that all pipe connections made the trip intact, but beyond a few tweaks, deployment is fast and easy.
Scalable and Flexible
Because of their compact size, mechanical skids are often used in small, modular data centers. However, the ease of installation makes mechanical skids useful in hyperscale facilities as well.
Mechanical skids are built to precise specifications, and their flexible configuration allows facility owners to work around space constraints or add additional skids for larger systems. For temporary facilities or those that expect to grow steadily over time, mechanical skids can easily scale up or down as capacity requirements or tenancy volume change.
Data centers are notorious energy hogs, but the shift toward more modular construction is mitigating some of their environmental impacts. Incorporating mechanical skids in both small and hyperscale data centers can help further this effort.
Mechanical skids are small enough to be transported on a semitruck, which reduces the need for specialized transport and heavy machinery.
Many of the pipes and other components are recyclable or reusable, which helps cut down on the amount of waste going into a landfill. And the cooling systems installed on mechanical skids are manufactured to today's highest levels of energy efficiency, to reduce the facility's carbon footprint.
Optimize Your Modular Data Center Design
Mechanical skids are one way to add scalability, flexibility and reliability to modular data center construction projects. Watch the on-demand webinar, "Vendor Neutrality & Open Source: Optimizing the Data Center Design Process," to learn why not locking in to one vendor or one technology will save time and money, while allowing you to build the best-fit modular data center facility for your business and your tenants.