Last week, PCX Corporation was supplied with the aroma of freshly brewed coffee, delicious fresh baked donuts, and the sweet smell of candy, as Halloween took center stage at the Clayton facility. From application engineers dressed like superheroes to sales representatives sporting inspired outfits from their favorite movie personas, PCX office staff took the initiative and supplied the holiday spirit. But the PCX office was treated to more than just festive sweets and costumed antics, as the resounding success from the first annual Halloween Costume Celebration may have lasting effects on the corporation's culture and team-building initiatives.
---
---
Halloween Catering & Appreciation
The human resources department, headed by manager Katie Wood, started the event off with some edible office favorites. Over four dozen Halloween decorated donuts were offered to staff members, with a side spread of freshly brewed coffee. In addition, Wood provided a variety of candy and chocolates, as two buckets were filled to accommodate the office staff's demand for the Holiday's premiere treat offering.
Wood, who dressed as the popular Friends character Rachel Green and sported the iconic "Central Perk" apron, believed the catering did more than just set the stage for the event. Wood believes that the act itself exemplifies appreciation for, and spurs satisfaction in office employees."Seasonal celebrations within the office are a great opportunity for PCX to show employee appreciation, especially through these small gestures," said Wood. "They provide a small break from employees' normal day-to-day routines and help spark productivity, because they show we truly care."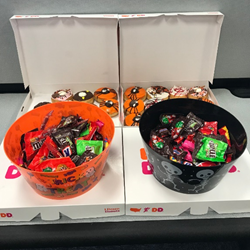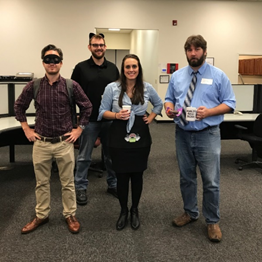 ---
Costumes & Company Culture
Creativity and individuality were on full display during the event, as staff members dressed as their favorite pop culture icons, movie stars and some of Halloween's premiere cornerstone characters. From Doctor Strange enjoying vampire styled donuts with Jack Skellington, to a slick-suited mafia boss pouring a fresh cup of coffee for a wizard, the office experienced some unique Halloween engagement firsts. But as Environmental Coordinator Jeff Burke illustrated, these engagements did more than just spark some interesting character developments.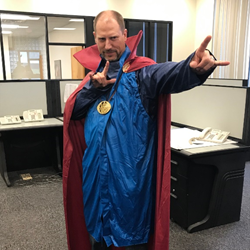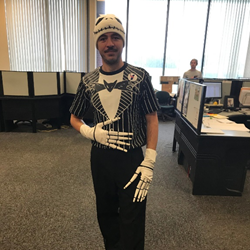 ---
Burke was at the center of the celebration, as he engaged with coworkers and helped hype up the festivities as a pirate captain. On the topic of conversing with all of the costumed staff members, Burke said, "To really have a team that functions effectively, you need to be able to know your teammates." When asked about how these individual team engagements, during office celebrations, influence the corporate atmosphere, Burke pointed to self-expression as a necessary catalyst. "Events like this can lighten the mood and help display sides of individual personalities you may not usually see," said Burke. "But through these expressions, individuals better connect with each other in the long-run, and set the stage for more positive working relationships that promote office synergy."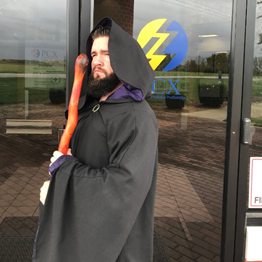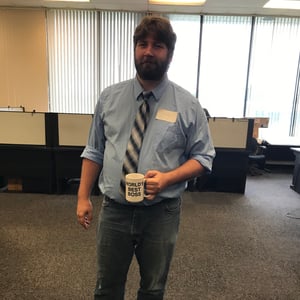 ---
Festive Team-Building
Over half the office staff dressed up in-costume to celebrate the event and take part in the office festivities, as staff members vied with one another for best costume. Through a joint effort between the marketing and human resources departments, PCX constructed a costume contest for all of the participating individuals to compete in. As part of the contest, all staff members voted for their favorite co-worker's costume and nominated them for a $50 gift card prize.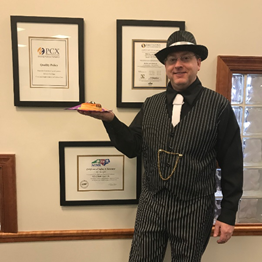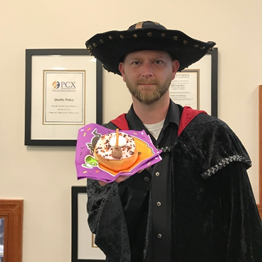 ---
Senior Application Engineer, Anthony Parrish, sported a black and white pinstriped suit and channeled his inner mafia boss all the way to the grand prize. Parrish said the event helped strengthen the bond between his coworkers and himself, and attributed this to the enjoyment shared between different departments in the office. "Celebrations like these help coworkers bond and share in activities that are non-work related," said Parrish. If it weren't for these inclusive events, you may only interact with a select group of co-workers, unless you happen to know one another outside of work."
---
Production Engineer Kris Stewart, who represented the animal kingdom by wearing panther ears, corroborated Parrish's thoughts on the celebration. Stewart stated the costume celebration allowed for more than just a fun break in work activities, as it provided a different, more enjoyable dimension to the team-building initiative. "An event like this gives us an overarching feeling of appreciation from the company," said Stewart. Just having the time to take a moment and connect with our co-workers gives us all a sense of togetherness that you cant find anywhere else."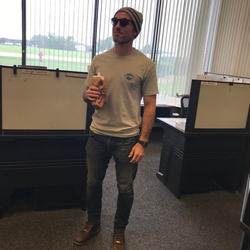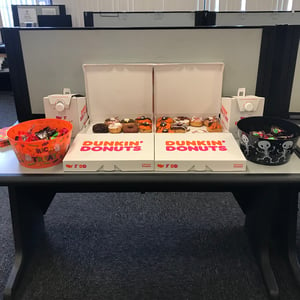 ---
The Human Resources and Marketing departments plan to build off of the positive employee satisfaction with the event, and are preparing to host the Halloween Costume Celebration annually. For more information on upcoming events, celebrations and employee team-building initiatives, please visit our official news release hub. To access recaps of PCX's corporate events and read about employee experiences or testimonials, please visit our blog hub.