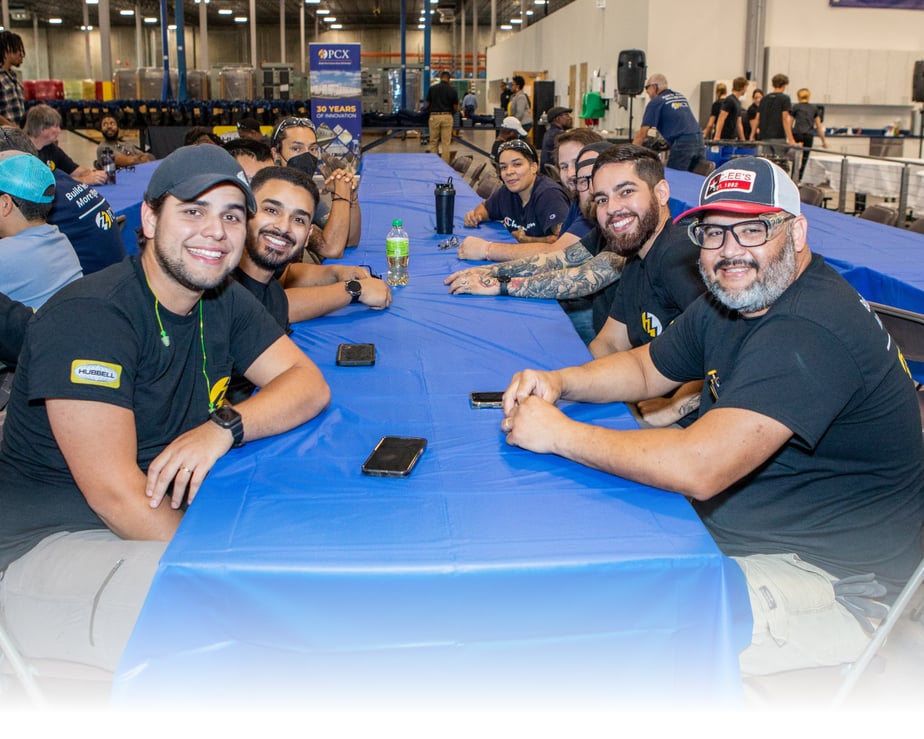 PCX Celebrates 30 Years of Innovation
The year 2023 marks an important occasion for PCX: its 30th anniversary! Over the past three decades, PCX has forged a reputation for excellence in the industry and innovated its way to prominence in modular construction. On this occasion, we're looking back at the company's history, celebrating its current success and looking ahead to the future.
PCX: Modular Solutions Across Applications
Although PCX's offerings have evolved over the decades, modular prefabrication has always been at its core. When the company was founded in 1993 in Clayton, North Carolina, prefabrication was already being applied to mechanical systems. However, PCX saw the value in applying that same concept to electrical infrastructure.
It was on this premise that PCX began prefabricating modular electrical rooms for commercial construction. In its early years, the company was driven by business from large commercial retailers, some of which are still loyal PCX customers today. Over time, the company expanded into other markets, including industrial facilities.
In 2010, PCX began to expand into the data center market, creating its first modular data center (MDC). This was a significant milestone for PCX because the MDC segment comprises the majority of the company's business today. PCX continues to create modular electrical and skidded solutions, but MDCs have become the company's bread and butter.
PCX's Blueprint for Success
Over 30 years, PCX has overcome obstacles and grown into an industry leader, serving some of the biggest hyperscalers in the tech world. The leadership team attributes that success to a few key qualities that have set PCX apart. PCX prides itself on these distinct qualities, which make up the company's blueprint for success:
Customer-Centric and Reliable
Through early lessons learned and a long track record of success, PCX has developed a reputation for reliability in the industry. Customers know they can count on the PCX team to deliver what they say they will.
PCX does everything in its power to meet customer requirements and will even get involved with the design of a project to ensure its success from start to finish. Even in the face of supply chain challenges, PCX has made a point to keep customers informed of realistic timelines and make pivots where needed to keep projects on schedule.
Flexible and Innovative
Those pivots also speak to PCX's commitment to flexibility and innovation. Since the start, PCX has looked for gaps in the market that other companies weren't filling and devised quality solutions for clients. Remaining vendor-agnostic allows the company to stay exceptionally agile.
This mentality has extended to the company's internal functionality. Even when the pandemic put many companies into a tailspin, PCX managed to keep everyone employed and the business moving forward.
Committed to Quality
PCX has been committed to the highest quality possible since day one. The company was one of the first in the space to achieve ISO 9001 certification—a standard of excellence for quality management systems.
When it comes to quality control, no detail is too small. Many customers are surprised to hear PCX has a dedicated team whose sole job is testing products and ensuring they meet rigorous quality standards before shipping them out. When the customer receives the product, it's ready for immediate deployment.
The Future of PCX
The future is bright for PCX. In 2022, the company was acquired by Hubbell Incorporated, and this acquisition is increasing visibility and opening up new business opportunities. It's also providing avenues for growth for employees—all of whom have remained on staff (a rarity during any merger) and share enthusiasm about the future of PCX as part of the Hubbell family.
One thing is certain as PCX looks ahead to the next 30 years: Modular and prefabrication in a controlled factory environment will continue to grow across sectors, making PCX's solutions as valuable as ever.
PCX is proud of its rich history, exciting present and promising future. If you want to learn more about what sets PCX apart from competitors, check out our resource, Selecting the Right Partner for Your Modular Data Center.