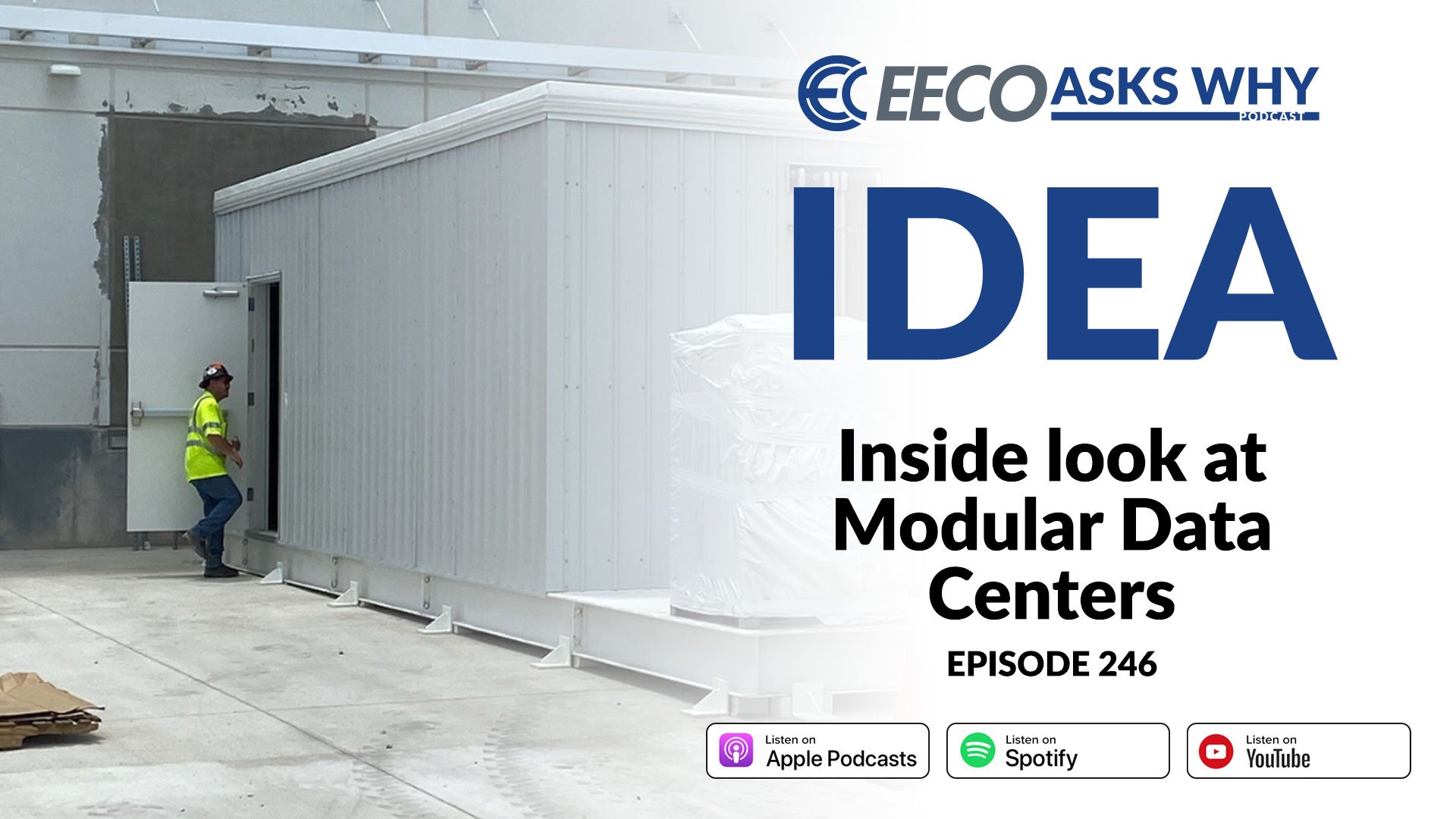 How much do you know about modular data centers (MDCs)? In a recent episode of EECO Asks Why, Michael Hennings, Director of Business Development at Hubbell Incorporated, and Bret Lehman, Director of Product and Business Development at PCX, came together with host Chris Grainger to talk MDCs—a valuable solution for today's data center demand. Here are the highlights of their conversation.
What Is an MDC?
The term modular data center (MDC) refers to an all-in-one solution that contains electrical, mechanical and IT infrastructure in a fully integrated system. It can also refer to modular infrastructure that goes inside a data center facility. Many people have a narrow picture of what an MDC is, thinking only of data centers contained in ISO shipping containers, but this is just one type of MDC. They can also come on skids or as custom enclosures.
One thing that is true of all MDCs is that they are prefabricated, meaning they're built in a factory environment rather than stick-built on site. However, being prefabricated doesn't mean MDCs are an entirely off-the-shelf product. Today's MDCs are highly customizable so you can build in the features you want.
This is particularly true for PCX's product offerings. As Hennings shares: "At Hubbell, that was what really attracted us to PCX and making them a part of the family, is that ability to integrate truly engineered solutions. [...] We can offer a greater variety to all of our end users and customers and really be a more important piece of the pie to them, and PCX brings a lot of that expertise and a great name in the industry."
The Growing Demand for Modular Data Centers
MDCs are taking center stage as demand for cloud computing and network storage is now greater than the industry can support. Technologies like artificial intelligence (AI), video calling, streaming, autonomous vehicles and more are all contributing to the demand for data centers. Hennings put it simply: "At the end of the day, they can't build them fast enough."
The Advantages of Modular
The modular data center market is growing much faster than the market for brick-and-mortar data centers due to some useful advantages MDCs offer:
Speed to Market
Prefabrication is known to be a faster, more efficient build process than on-site construction. As Lehman pointed out, issues that can stall traditional construction projects—like severe weather—are far less of an issue in a manufacturing plant, where "it's easier to control the environment and be able to continue to work in parallel, even though there might be a delay going on in the critical path of the data center." By building modularly, you can deploy data centers faster and generate revenue sooner.
Skilled Labor
In remote locations (where many data centers are built), getting access to skilled workers can be challenging, which is another reason modular is in high demand. Instead of trying to hire a team, a customer can order an MDC and know it's being manufactured by a highly skilled workforce that's already in place and ready to go with a consistent build process.
Scalability
Modular construction allows you to right-size your capacity and scale as needed. According to Lehman, "As IT demands accelerate or decelerate from time to time, modular solutions can be scaled in increments that are more readily aligned to what the IT demand for the infrastructure might be. So if the business grows, you add another module." It's really that simple.
Flexibility
MDCs are far more versatile than stick-built solutions. Because these data centers are compact and come in various shapes and sizes, you can make them work in a variety of contexts. MDCs are a great option for edge applications, for instance, or anywhere a large data center building isn't feasible or necessary.
Cost
MDCs may come with a higher price tag initially, but choosing an MDC ultimately saves you money throughout the project because there's far less room for wasted spending. It also helps you get up and running quickly so you can get a return on your investment sooner. As Lehman explains, "If you're just looking at cost of equipment, you're not looking at enough of the picture."
Looking to the Future
There are exciting developments on the horizon for MDCs. As current trends continue, market demand will grow even more.
MDCs will continue to meet demand, and innovation will continue to make them a valuable solution. With increased power densities, modular integrators are finding ways to accommodate new technologies and increased demand, especially in terms of cooling. "As the rack compute increases, so will we," Hennings shares.
Lehman points out that another noteworthy development is the growing focus on sustainability. MDCs offer environmental advantages, and MDC providers can push this benefit even further by embracing greener materials and processes.
Listen to the Podcast
Demand for data centers and MDCs is sure to grow. As Lehman puts it, "We're never going to manage less data than we did today."
Want to learn more? Listen to the podcast to hear the full conversation, and check out The Complete Guide to Modular Data Center Solutions in the PCX resource center!