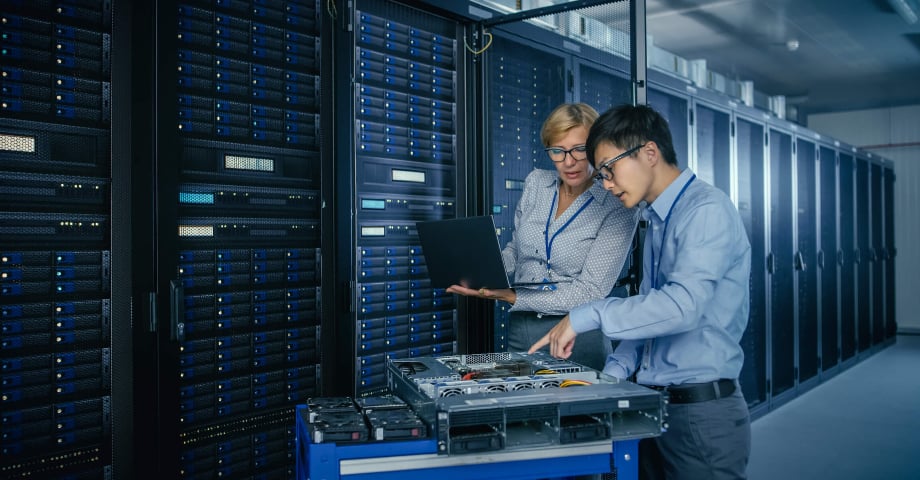 Once you've decided to build a new data center, the work is just getting started.
You can't just expect to build just any facility and get the results your business needs. Instead, you need to figure out the precise solution your company needs to be successful—one that's built to support your specific requirements, and not somebody else's.
But how exactly can you determine what those requirements are? After all, chances are you're not in the business of actually building data centers; you're in the business of using those data centers to power transformative applications or otherwise support your customers using technology.
How to Determine the Exact Inputs for the Project without Increasing Costs
Instead of moving forward with such a massive undertaking on your own or outsourcing these major projects to contractors you never see, you may be better off partnering with a modular data center design partner that can work with you to nail down your unique requirements up front.
With the right partner in place, you can accelerate construction timelines while leveraging the knowledge and expertise of a company that specializes in building data centers all year round.
From a financial perspective, that beats hiring a consultant to tell you what you need—and then having to build everything yourself anyway.
By partnering with a modular data center builder, you'll get the peace of mind that comes with knowing you have a team of skilled engineers and builders working hard to build a data center that meets your exact specifications. At the same time, you'll be able to open the doors to your new data center in 30 percent less time than you would if you opted to build everything from scratch.
Considerations for Data Center Design
Whether you decide to contract a modular data center construction company or you opt to build one from scratch instead, here are some of the major considerations you'll need to keep in mind, as you move your project forward from conception to completion.
1. Space
The last thing you want to do is spend time and money putting together data center blueprints, only to find out the hard way that you don't have enough real estate to install the facility in a compliant way.
One of the key benefits of modular data centers is that they're completely flexible by design. Assuming you have a piece of real estate locked down, a design team can create blueprints based on the geographic parameters of your property. That way, you know with certainty that the data center you're going to build will fit comfortably within the space you have in mind.
That's compared to the other way of doing things where you might end up with a design that doesn't fit your property. But you might not find out that that's the case until it's too late—and you might have to go back to the drawing board and design yet another plan, which extends your time-to-deployment and time-to-revenue.
2. Power
Your data center won't do much good if it doesn't have the right power source and the right amount of redundancy built in.
A major part of building a new data center is to increase performance and availability. If you're not running the right kind of power to your data center and enough of it, neither of those things are achievable.
A qualified vendor will be able to recommend the precise amount of power you need to keep things running smoothly, as well as what kind of backup power sources you need for failover protection.
3. Cooling
Similarly, you'll also need to include proper cooling systems in your data center design. The right vendor should be able to help you figure out when you need rear door heat exchangers, in-row cooling, chillers, split systems, air- or a water-cooled computer room air conditioner (CRAC), a computer room air handler (CRAH), economizers and free air cooling, among other things.
As you know, cooling systems play an integral role in data centers. This is an area in which you simply can't afford to cut corners.
4. Use Case
What's the purpose of your data center? Are you using it to store data on premises? Or are you using it to power cloud-native applications that operate at global scale?
Depending on the use case you have in mind, your data center will undoubtedly have different requirements. Working with a modular data center provider will ensure you're pointed in the right direction.
Define a Clear Process to Follow in the Planning Stages
Any data center construction project is a tall order. The last thing you want is to end up in the middle of the project, only to realize you're not sure what comes next or you overlooked a critical step.
By defining clear processes that your team and contractors building your data center are going to follow, you remove guesswork from the equation and make sure everyone's on the same page for the duration of the project. In other words, the more planning you put in ahead of time, the easier it'll be to achieve success down the road.
If you're looking to build a data center in less time and for less money, you may be better off moving in the direction of a modular data center. But not every company that builds prefabricated data centers is alike or has the necessary experience your company needs to build a data center to your unique specifications.
Check out our free guide, Selecting the Right Partner for Your Data Center, to learn more about what to look for in a modular data center vendor.