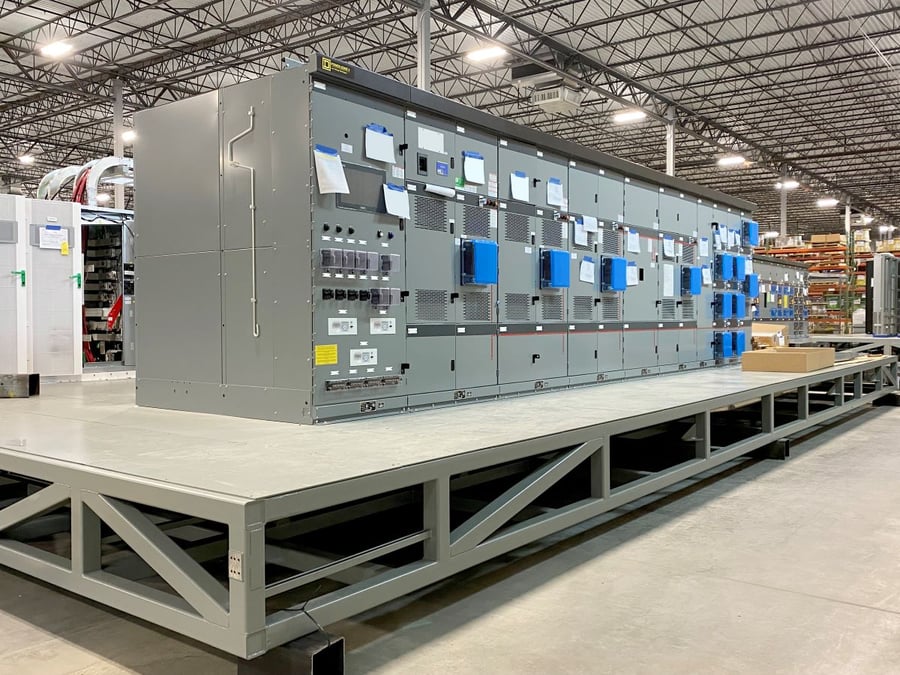 Demand for data center capacity reached record highs in 2020. The COVID-19 pandemic prompted a sudden pivot to remote workplaces and worldwide reliance on the internet, which became a lifeline for millions of individuals' business, personal and social lives.
Another side effect of the pandemic was a severe disruption to the global supply chain, which has made it difficult for data center owners to build enough facilities to keep pace with the demand.
While not a new concept, modular data centers are experiencing elevated popularity, as more owners realize the value of premanufactured construction for data centers of every type—from tiny, temporary units to hyperscale facilities and every use case in between. One of the major advantages associated with the modular approach, and the most necessary to expedite your project's deployment, is the ability to shift the labor and material procurement off site.
The Case for Skid-Mounted Systems
Skids are a common design option for premanufactured data center construction because they are easy to integrate, while adding additional flexibility to the overall unit.
Mounting key components on a metal frame, which can be dropped in during the manufacturing process or added to an existing facility, enables fast deployment, ensures better quality, and provides customizable and scalable configurations to accommodate capacity changes.
Although technically almost any system in a modular data center could be skid-mounted, the two main types are mechanical skids and electrical skids.
Mechanical Skids
Mechanical skids are frames that hold all of the components that hook into a data center's HVAC, to support the facility's cooling system. Typically, a mechanical skid includes piping networks, pumps, air-cooled condensers or chillers. Some may also house a water storage tank for short-term emergency cooling, in the event of an outage.
Benefits of Installing Mechanical Skids
Skid-mounted cooling systems are ideal for modular data centers. Mechanical skids are self-contained and easy to install; they provide flexible heat rejection options for a wide variety of facility sizes, types and locations.
Mechanical skids are manufactured in a controlled factory environment and fully tested throughout the build process. This ensures they are reliable, compliant and ready to deploy upon delivery.
Electrical Skids
An electrical skid, also called a power skid, is a preassembled power center mounted on a metal frame. Electrical skids include major components of the data center's power infrastructure, such as switchgear, universal power supply (UPS) and batteries.
Benefits of Installing Electrical Skids
Electrical skids are a common design option in the manufacture of standard modular data centers. But there are also several less typical use cases where electrical skids are ideal—for example, in situations where critical power infrastructure needs to be deployed quickly within an already existing building.
Because they can fit in small or oddly shaped spaces, electrical skids are often used as a temporary solution for a facility that needs to rapidly expand capacity or to set up a small unit away from the main facility.
Challenges of Modular Skid-Mounted Construction
Although there is a strong case for installing mechanical and electrical skids in modular data centers, there are also a few challenges to be aware of:
For example, the current supply chain issues may create vendor lock-in problems. Or if the skids are going to be placed in off-site construction units or a stick-built facility, it may be difficult to fit skid installation into the existing construction workflow.
However, the biggest challenge is often affecting change within the organization. If your company has always built using traditional construction methods, it may be difficult to get leadership buy-in and approval for a new approach.
Predictions for the Future of Modular Data Centers
Data center capacity is in high demand and is predicted to continue growing in 2021. As edge computing continues to take hold, modular skid-mounted solutions will help data center owners quickly deploy small units to remote locations.
We also expect that supply chain issues will continue to slow traditional construction projects for the foreseeable future. While not immune from the disruption, vendor-agnostic modular data center manufacturers historically have had fewer issues with sourcing materials. Whether this trend continues remains to be seen.
Watch the on-demand webinar "Vendor Neutrality & Open Source: Optimizing the Data Center Design Process" to learn more ways to add flexibility to your data center construction projects.