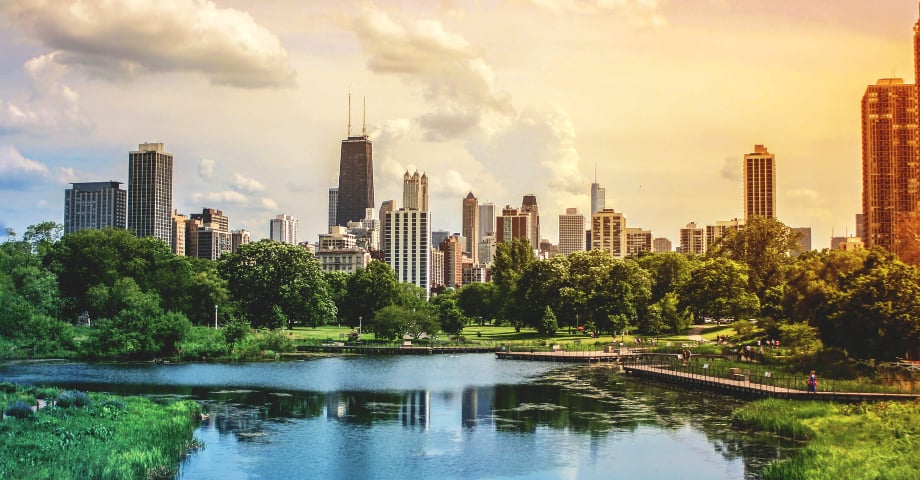 Construction activity in Chicago has dwindled in recent years. Whereas the Chicago construction market commanded upwards of $24.1 billion in 2017, that number dropped to $21.8 in 2019. Since the COVID-19 pandemic has slowed projects down even further, we expect the 2020 numbers to be even worse.
Regardless, before the coronavirus took its toll on the U.S. economy, pundits still predicted the Chicago construction market would continue to struggle over the next few years.
In large part, these numbers are due to the fact that Chicago has some of the highest construction costs in the country. In fact, Chicago saw the biggest rise in construction costs in 2018. Truth be told, it's only more expensive to build in two other cities in the country, and you can probably guess which cities they are: San Francisco and New York City.
But it's not all doom and gloom for Chicago construction. For example, data center projects in Chicago have been on the uptick lately, with Facebook recently announcing its plans to build an $800 million data center in the area.
If you're thinking about launching a new data center construction project in Chicago or the nearby vicinity, it is imperative that you learn the ins and outs of the Windy City's construction regulations, to make sure you create a project that is on time, on code, and on budget.
Construction Regulations in Chicago You Need to Know
Because it's a U.S. major city, it comes as no surprise that Chicago has many regulations—much more than the average small town, to say the least. If you're a construction manager who's ready to break ground on a project in Chicago, you need to be aware of regulations concerning:
Building height
Occupancy classification
Types of construction
Fire and smoke protection
Fire and life safety systems
Accessibility
Energy efficiency
Aluminum
Masonry
Steel
Wood
And more!
For more in-depth and up-to-date information, check out the 36 chapters of the Chicago Building Code.
Construction in Chicago and COVID-19
When the pandemic emerged, Chicago—like all other major cities—rapidly adopted updated COVID-19 construction guidance. For example, a worker who tests positive for COVID-19, or is sick, needs to stay home and self-isolate for at least seven days. Further, if someone comes into contact with someone who tested positive for the coronavirus, that individual needs to stay at home and self-isolate for 14 days while observing any symptoms.
The city also put forth a slew of other guidelines to outline what safe construction sites look like. Among other considerations, these guidelines include:
Ensuring social distancing in all common areas of work sites, including break areas, hallways and hoists
Making sure that no more than 10 individuals are gathered on a site at once
Have all workers wear face coverings both inside and outside
Training subcontractors on COVID-19 safety guidelines
Staggering shifts to decrease the number of concurrent shifts
The Easiest Way to Build in Chicago
One of the biggest reasons Chicago is an expensive market to build in is because you have to pay union workers high wages and spend money to ensure your site complies with the city's stringent regulations. Not only does this approach cost a ton of money, but it also takes up a lot of time—and that time can be better spent elsewhere.
If you're building in Chicago for the first time—or even if you've done so before—you might be better off partnering with a modular construction company, instead of trying to get the job done with on-site contractors.
PCX is a modular construction company that has more than 25 years of experience building data centers and other facilities in every state across the country. We're well versed in the regulations governing Chicago construction, and we know how to build data centers that comply with the highest quality standards.
Our modular approach means that construction takes place in our factories in North Carolina—not on the ground in Chicago. After we finish building the modules, we send them to Chicago and then install them on site. Not only does this approach enable you to save on construction costs, but it also accelerates project timelines.
To learn more about the current state of the data center construction industry and why more and more of today's leading organizations are opting to invest in modular data centers, check out our free report: The State of the Construction Industry in the New Decade.