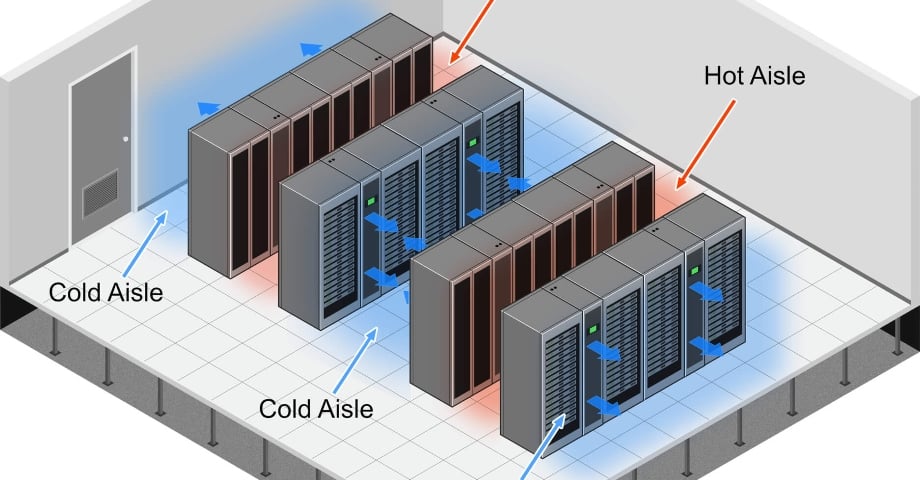 Although data centers play an integral role in today's society, they also leave a large carbon footprint. Recent studies have found that data centers consume 1 percent of all the energy used in the world.
But with data center demand continuing to spike, data center energy usage is actually decreasing. In large part, this is because a number of new energy efficiencies have made it to market in recent years, enabling data center operators to run increasingly powerful machinery without worrying about skyrocketing energy costs alongside it.
If you're starting a data center project and are looking to solve your cooling needs, you'll quickly find there are many options at your disposal.
What kinds of cooling solutions are available for data centers?
Several new technologies have emerged in recent years, promising to bring more efficiency to data center cooling. Let's briefly examine three of the more popular cooling solutions for data centers, as well as innovative solutions that are being considered today:
1. Liquid immersion cooling
Immersion cooling is the process of putting full servers and other computing equipment into fish tank-like structures filled with a liquid coolant. Liquid immersion cooling is known to be a more efficient way of cooling than using air. This technology can support powerful systems, but they might provide higher performance than the average organization needs. Such systems are also known to carry a heavy price tag, though the efficiency could offset the costs. Further, in the event you need to tinker with a server, you'll have to remove it from the system, which can present complications.
2. Cold plate
Cold plates refer to actual metal plates that are cooled and put on top of the CPU, with the coolants sent directly to the cold plate, to absorb heated liquid. Though this approach is helpful for cooling CPU units, it doesn't cool anything else. As such, this method is usually used in conjunction with other methods. The cold plate approach also requires you to use a bunch of different devices, adding more and more to the mix as you scale. For this reason, cold plates are primarily found in high-performance computing environments.
3. Free air cooling
If you build a data center in a naturally cold area, you can use a free air cooling system that pulls the natural cold air from outside. Such a system provides a greener, and more sustainable way to cool your data center, and it will drastically reduce energy costs, while helping the environment. It's also very inexpensive from an operating standpoint. However, the geographic location where this approach is effective does have its limitations. For example, it may be hard to attract talent if you open up a data center in northern Sweden, compared to a tropical climate. While people might be thrilled to work in sunny weather all year round, you're unlikely to find scores of qualified workers sharing the same sentiment for the arctic.
What's next for data center cooling?
Hyperscale data center operators continue to build cutting-edge cooling solutions to keep their data centers from overheating.
For example, Microsoft is exploring whether to take liquid immersion cooling to the next level by building underwater data centers, thereby taking advantage of the earth's built-in cooling capabilities. While the upfront costs might be quite significant, Microsoft is betting that they'll save on operating expenses (OPEX) over the data center's life.
Any way you look at it, data center construction is a massive undertaking. Because of the massive impact cooling has on data center total cost of ownership (TCO), it is critical that you build the optimal cooling solution into the foundation of your center. The last thing you want is to end up with a building that requires more energy costs than you budgeted for.
This is one of the main reasons why more and more organizations are opting to build modular data centers, instead of taking the traditional approach. By partnering with a modular provider, you can rest comfortably knowing that your data center cooling technology is the right solution for the task at hand. Modular providers have built tons of data centers over the years. Not only do they know how to design an efficient data center footprint, but they are also able to leverage the latest innovations on the market around energy efficiency.
Optimizing energy consumption for your data center starts with effective construction planning. To learn more about why modular data centers are the way to go for more and more organizations, check out our free guide, The Complete Guide to Modular Data Center Solutions.