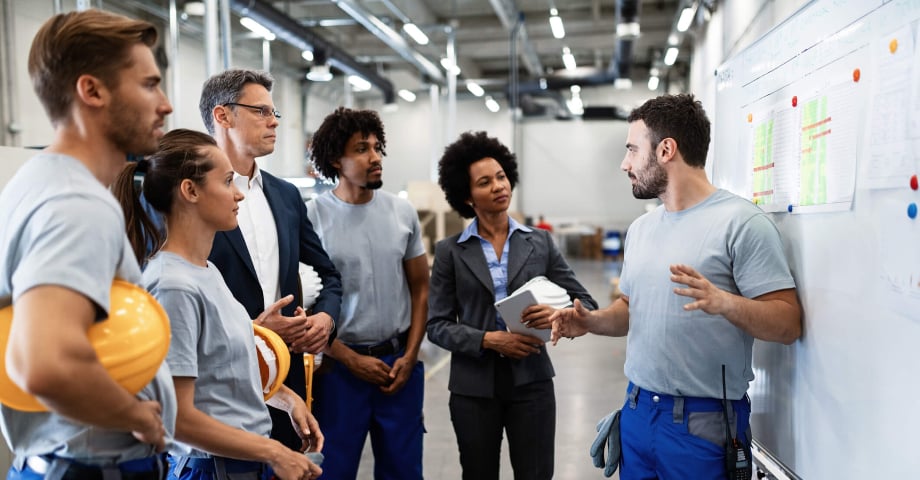 The goal of every data center project should be the same: deploying a high-quality, mission-critical structure that is built to last and enables you to accomplish your specific business objectives.
That being the case, you need to thoroughly vet the data center construction partners you are thinking about working with, to ensure they have a strict quality management system they follow. This also ensures that the outcomes for your project, and your organization, are up to par.
What is a quality management system?
A quality management system (QMS) is a framework that includes tools, processes and procedures designed to ensure that an organization is able to produce high-quality products on a consistent basis.
By joining forces with a data center partner that is guided by a robust QMS, you get the peace of mind that comes with knowing the data center that's ultimately delivered will meet your needs and be designed to the highest standards.
That said, not every data center construction partner relies on a QMS solution. And even if they do, not every quality management system is the same. With that in mind, here are some of the questions you need to ask when assessing your data center partner's quality management system:
1. Do you have a quality management system?
The first step is confirming that the construction company does in fact use a QMS to govern its processes. Assuming the answer is yes, you'll need to dig deeper to find out whether the QMS is registered with a regulatory body and how often it's audited.
Just because a company might have a QMS on the books, doesn't necessarily mean it's enacted the proper way. As such, you also want to look into whether the company is registered with a third-party organization that can certify that they are meeting the standards they're supposed to be following.
2. Who is managing your quality management system?
Although modular construction is growing in popularity for many reasons, it's still a relatively new ideology in the industry. To this end, you'll also want to make sure to learn more about the individual who's in charge of quality at the data center construction company.
For the best results, try to confirm that the individual in charge of quality comes from a more mature industry that has more-defined quality standards—like construction, and manufacturing, or medical devices, biotech and pharmaceuticals, among other industries. By partnering with a company that has a seasoned veteran as a quality leader, you can rest comfortably knowing that your project is in experienced hands.
You should also ask about what quality initiatives the individual is working on and where the QMS is headed. Is the company just focused on maintaining its existing system? Or does it plan on exploring more options to continually ensure the QMS evolves to become more efficient and thorough?
3. What is the company's quality policy?
Anybody can say they have a good quality system in place. But you'll want to research how they're backing up those claims.
In order to make sure you end up partnering with the right construction company, you need to determine what the core purpose of its quality policy actually is, and how it benefits your project.
Is it just a checklist in which quality managers check off boxes and move on? Or does it cover all departments—from purchasing and design, to production and shipping?
4. Do you adhere to ISO 9001:2015?
There are many different types of quality management systems. When it comes to manufacturing, ISO 9001:2015 is the most popular standard. Whereas earlier iterations of the ISO standard (e.g., ISO 9001:2008) focused on certain facets companies needed to cover and not cover, the newest version is more about the intent of the quality system and the end results.
Compared to the previous version, the ISO 9001:2015 standard focuses more on the inputs and outputs in the manufacturing process, as well as on the important role that leadership plays in successful quality management systems.
For these reasons, it's important to determine which version of the ISO 9001 standard your construction partner may or may not be adhering to.
5. How does the QMS benefit my project?
Not every vendor is the same, and neither is every QMS.
Before signing on the dotted line, make sure you partner with a construction company that has a demonstrated track record of fast and reliable timelines, efficient construction processes, and high-quality end products. The last thing you want is to partner with a company that is guided by a QMS that doesn't necessarily meet your objectives or your desired goals for your solutions.
It's time to pick the right partner for your data center project
Because your data center construction partner will play an enormous role in the success of your project—it is critical to do your due diligence to make sure that you pick the right company to work with.
Although a construction company's QMS is incredibly important to consider, it's not the only factor that should influence your decision-making.
To learn more about what to look for in a data center construction partner, check out our free guide: Selecting the Right Partner for Your Modular Data Center.