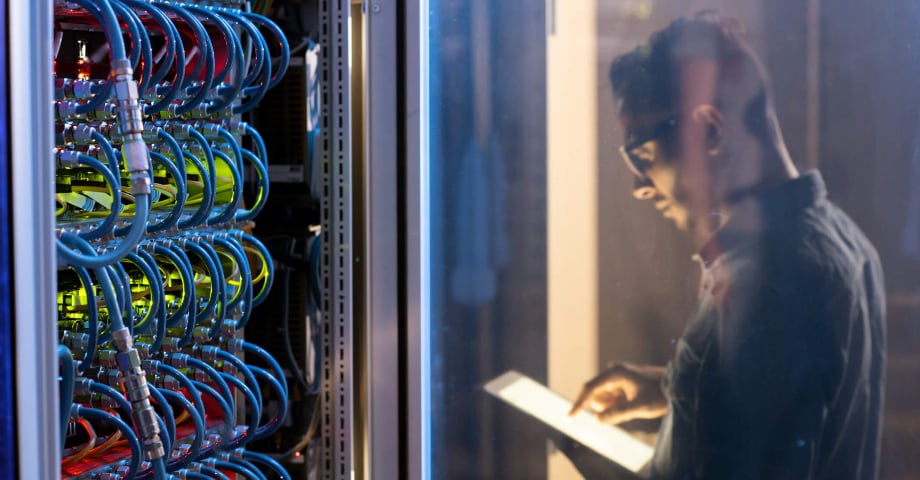 Wireless technology continues to grow more powerful and become more sophisticated. Fifth-generation wireless data transmissions, commonly called 5G, are the newest medium for data for the Internet of Things (IoT), artificial intelligence, smart cities and more. With the introduction of 5G wireless technology, data center operators are preparing to add more wireless data capacity to their infrastructures. However, supporting 5G broadband data will require new, innovative strategies when it comes to data center construction.
5G wireless networking promises to dramatically increase the level of traffic data centers have to handle. According to Cisco, by 2022, 51 percent of all IP traffic will be Wi-Fi, 29 percent will be wired, and 20 percent will be cellular. Cisco also anticipates there will be 422 million 5G connections by 2022, with an average speed of 170.2 Mbps, which is four times faster than 4G cellular. It also means that by 2022, 5G will create 2.6 times more cellular traffic than 4G connections.
5G Is Driving Edge Computing
With the dramatic increase in traffic to accommodate machine-to-machine communications for IoT and other applications, data centers will have to be redesigned to handle the increased volume of data traffic. Applications can only exchange so many data packets per minute, so when you increase traffic volume and still require real-time data access and analytics, data latency becomes a factor. To address this, companies are adopting edge computing, as more businesses are moving their computing resources closer to the data source to reduce lag time. Edge computing not only increases response time, but it also improves resiliency by creating alternate data routes, making it ideal for critical computing applications. In France, for example, 17 percent of edge computing relies on high redundancies for critical processes, substantially reducing latency to ensure that data is available on demand for real-time processing.
The growing demand for edge computing will have a dramatic impact on data center construction. You will see more hyperscale data centers being built near urban centers to place computing resources closer to customers. You also will see more micro data centers set up for edge computing applications.
Micro data centers are self-contained rack units that offload some of the computing needs of the larger data center by handling IoT and edge computing requirements. By deploying micro data centers, you address the latency problem without having to have your data center in close proximity.
Micro data centers are also ideal candidates for modular data center design. Self-contained data center racks can be custom-designed and fabricated off-site by skilled engineers and delivered, ready to install in any location.
Virtual Networking to Support 5G
One of the technologies that makes 5G networking possible is virtualization. Network function virtualization (NFV) is a strategy that separates the network functions from the hardware, so rather than using dedicated hardware, applications can be run across multiple network devices. It is considered a complementary approach to software-defined networking (SDN).
Virtualization is critical for 5G wireless data systems because it enables network slicing, so multiple virtual networks can be created using the same physical network. Virtualization also allows data center designers to use stock hardware, which reduces design costs while increasing network flexibility. Virtualization is what makes it possible to build data centers and make them operate as a single, larger data center, even though it is designed using distributed cloud technology.
Modular data center fabrication is ideal for virtual networks as well. Off-the-shelf network components can be assembled in racks, tested and shipped to build out new or existing data centers to accommodate more virtual data traffic. Modules can be custom-designed or use a standardized design that can add more computing power, as needed, to any data center just by adding more modules. By using software virtualization and modular hardware, you don't have to overbuild your data center capacity from the outset to accommodate for unplanned future capacity. As more network processing power is required, as will be the case with 5G data support, you can build out capacity as needed over time. Self-contained modules can also be designed to specific computing and physical specifications, so that they can be installed anywhere.
Upgrading for the 5G Future
To date, 5G has been slow to arrive, largely because of the lack of infrastructure to support the higher speed wireless connections. The major carriers, such as AT&T and T-Mobile, have been testing 5G in various markets, but they have yet to deliver the promised tenfold increase in data transmission speeds. The carriers, like all data center providers interested in supporting 5G, still have to upgrade existing systems.
Data centers everywhere are going to have to be optimized to address the 5G challenge. If you want to learn more about modular data center strategies and their impact on the future of data center design, be sure to download our latest guide, The Complete Guide to Modular Data Center Solutions.