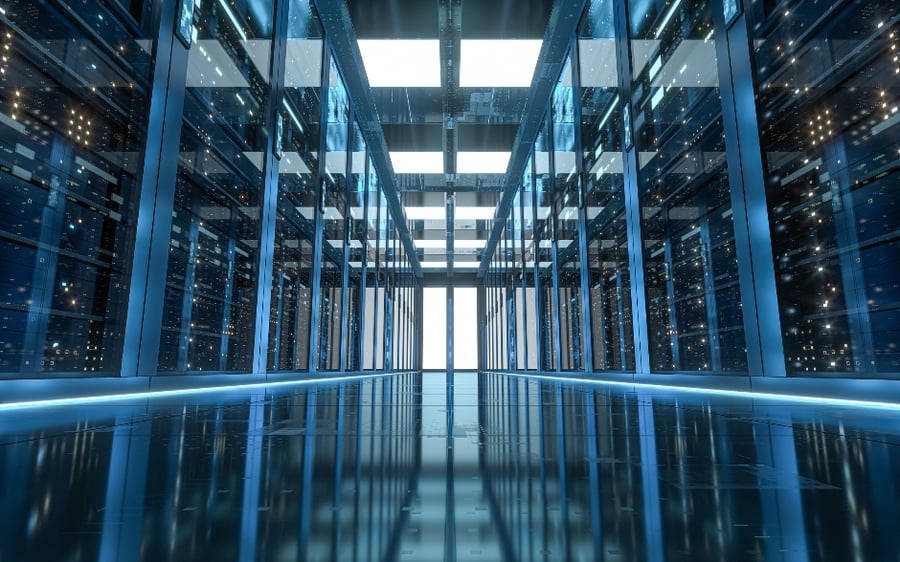 The State of the Data Center Industry
Global data usage has hit an all-time high, driven in part by a mass pivot to remote work environments, increased use of connected devices and fast-tracked digital transformation initiatives.
This data explosion has had conflicting impacts on the data center industry. Capacity demand has reached a historic high, and global market research firm Technavio predicts the data center market is expected to grow to more than $519 billion by 2025. At the same time, supply chain disruptions have tempered the speed of facility construction.
The data center real estate market is also restricting new construction opportunities, especially for smaller players in the industry. Most available land in the tier 1 markets is either owned by the hyperscalers or priced too high for smaller organizations to afford.
This inability to acquire tier 1 building sites is just one of the reasons data center owners are expanding outside of the traditional hubs and building in smaller markets.
The modern workforce is more distributed than ever before, meaning compute needs are more widely spread. To minimize latency issues, many organizations are choosing to locate servers closer to their users, which is often outside of the urban core.
Additionally, the increasing availability of 5G and a growing reliance on Internet of Things (IoT) and smart devices makes a strong business case for building new data centers to reach edge markets.


Where Modular Construction Fits in Rapid Data Center Industry Expansion
Although not a new concept, unprecedented demand for data center capacity has put modular construction back in the spotlight. The agility and flexibility of premanufactured data centers make them ideal for today's wide variety of use cases.
Modular data centers are easily scalable, so capacity can quickly increase or decrease to match business growth. The modular manufacturing process is also extremely cost-efficient, reducing some of the current supply chain issues and expediting build schedules.
Modular units are easy to transport and deploy on-site with minimal labor required, offering a significant benefit in edge environments and regions struggling with a skilled labor shortage.


Three Questions to Ask Before Beginning a Modular Data Center Construction Project
As with any construction project, building a modular data center requires careful planning. Without proper due diligence, data center owners risk making costly mistakes that may lead to stranded capacity, longer lead times and build schedules, and a facility that doesn't meet future needs.
Before officially kicking off a new modular data center build, you and your stakeholders should be able to answer three important questions. The answers to these questions will not only determine whether or not to invest time and money in the project, but also pinpoint specific technology and business requirements.
1. Is a new facility necessary?
This is the first and most fundamental question to ask. Before incurring the expense of a new modular data center, decide whether it makes more sense to expand an existing facility.
To help determine whether a new facility is necessary, weigh the pros and cons of both options with these questions:
How old is the existing facility?
Is the current facility meeting our needs?
Can the current facility accommodate our projected future needs? If not, can we modify the existing facility for future growth?
Does it make more sense to move to a colocation facility or the cloud?
Do the risks of building a new facility—such as downtime, data migration mistakes and supply chain delays—outweigh the benefits?


2. What are our business needs?
Modular data centers are highly customizable. To align the design with your organizational goals, you must first determine what business needs you require the facility to fulfill.
For example, if your business is highly regulated, you must include components that meet compliance requirements. If you expect significant growth in the near future, be sure to plan for maximum scalability.
Other potential business considerations to include in your modular data center decision-making are:
Will you require IT support and expertise?
Does the solution reduce capital and operating expenses?
Does it support cloud services?
Is it suitable for edge or remote access?
Is the design repeatable for multiple geographies?
3. What are our technology needs?
Technology requirements are fluid in today's rapidly changing business environment. Modular data center construction allows you to design the facility with the computing, networking and storage capabilities you need today, with the built-in option of scaling up capacity in the future.
Skid-based mechanical and electrical systems increase the flexibility and ease of integrating components into new and existing units to keep pace with your organization's changing technology needs.
How to Find a Modular Data Center Manufacturer You Trust
Deploying a new data center is risky from both a financial and a data security standpoint. It's essential to partner with a manufacturer who has a proven track record for quality.
When vetting potential partners, look for a vendor that has demonstrated their ability to provide a modular data center solution for multiple markets and clients. Be sure they understand your business needs and are willing to work collaboratively with your team.
For the fastest and most efficient deployment, seek out a vendor-agnostic modular data center manufacturer. With no ties to specific materials and components vendors, vendor-agnostic manufacturers can meet or even expedite lead times and build schedules by mixing and matching needed components from a variety of suppliers.
Download our infographic, "Prefabricated Modular Data Centers," for even more tips on increasing efficiency and cutting costs in your next data center deployment.