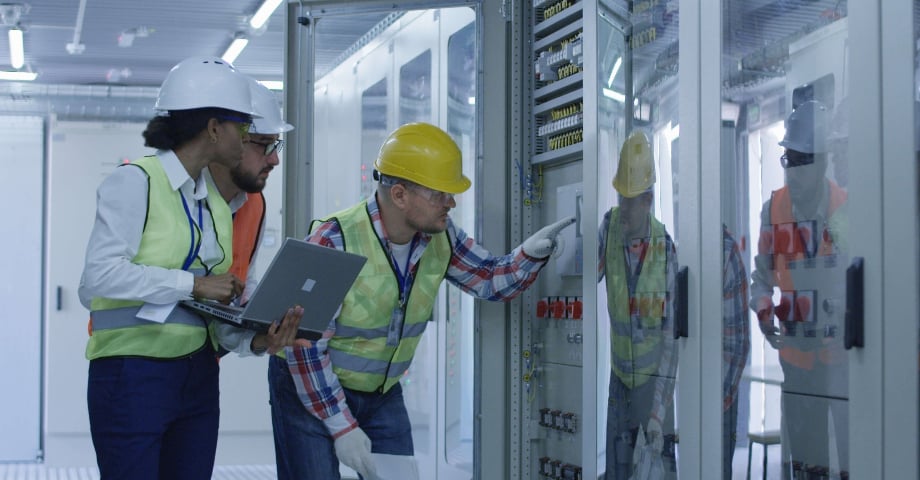 Prefabricated electrical power distribution systems are growing in popularity because they save time and money in construction. However, to get maximum value from any form of modular electrical system, your entire team—from design engineers, to the construction crew, to contractors—needs to understand what to expect during the process and where their responsibilities lie.
At PCX, we have extensive experience installing electrical power systems, and the complexity of the projects we've worked on range from installing ready-made switchboards to constructing fully prefabricated modular data centers.
To help your team prepare for the installation of your next electrical power system, we've put together a step-by-step guide that walks you through what you can expect at each phase of the project.
Step One: Go Modular
When commissioning a modular electrical power distribution system, you start with the specific requirements. At PCX, for example, a project typically starts when a contractor comes to us to solve a specific problem, often related to space constraints, cost or delivery time.
Some of our clients approach us with a modular solution already in mind and want to dive right in to develop a configuration. Others don't have a firm understanding of how to solve their electrical power distribution problem. However, once we review modular options and show them how system design is more compact and adaptable, as well as more cost-effective, the majority of clients become convinced about the benefits of modular, and are ready for next steps.
Step Two: Design the System
Before module assembly can begin, we need to develop a detailed schematic of the electrical power system, which includes designs for capacity and physical layout. We start by reviewing the specific system parameters and specifications. Then we can assemble a bill of materials and start gathering components, while concurrently establishing a timeline and budget for fabrication and delivery.
As part of the preliminary design process, we also have to determine whose equipment will be installed. Normally we work with customers to define the parameters and order the necessary equipment, but there are instances in which the customer wants to use their own equipment, and that has to be taken into account in both the design and production schedules. A major benefit to utilizing a modular approach is customizability, which means client component and equipment preferences are more easily integrated in this phase.
Of course, designing modular power systems is seldom that simple, and the size and layout of modular power system designs can vary widely. For example, if you are installing a system on the top floor of a building, you have to be sure the finished unit fits into the freight elevator. Or if we have a customer commissioning an oversized modular data center delivered on a skid, we have to be sure the data center can be delivered without logistic issues and site conditions. There are technical constraints as well, such as how much utility power is available and what voltage, how far away it is and what methods are employed to connect the modular system.
Contractors often have a good understanding of their needs, which is why they opt for a modular solution in the first place. However, to eliminate any surprises, we usually send a technician, a design engineer, or both to the installation site, armed with a camera and a tape measure, to assess the problem before finalizing the design.
Step Three: System Assembly & Construction
Following the design phase, when the parameters are set and the equipment specified, production begins using well-established assembly and construction procedures.
Working from the approved designs, we gather the necessary components and assemble them in the factory. Assembly is performed by qualified electricians and electrical engineers, and each component is carefully inspected during assembly for quality and building code compliance. Specific functional systems and components are tested according to the plan outlined in the system design.
Workflows and assembly procedures are continually tested and refined with every new contract, so actual construction can usually be completed in a few short weeks. Fabrication delays can be caused by other factors however, such as ordering special long lead equipment. But all those factors can be determined during the design phase and integrated into the schedule. In addition, we can typically work in parallel with long lead items to minimize delivery delays.
Although most of the requirements have already been considered as part of the assembly protocols, there are instances when something new has to be included as part of fabrication. Since PCX is certified in ISO 9001:2015 quality assurance standards, any new procedures are documented and added to assembly protocols for future modular builds.
Factory Acceptance Testing (FAT) or factory witness testing also needs to be completed prior to shipping the finished modules. While many fabricators outsource this task, PCX conducts its own FAT tests, including mechanical and electrical systems, cabling, power, cooling and fire systems. FAT testing ensures the system is operational and ready to install, and reduces risk of failure once the unit is delivered.
Step Four: Delivery and Installation
Once completed, the finished unit is shipped for installation. Delivering and installing any prefabricated electrical power distribution system can be completed in a fraction of the time it would take to wire the same system on site. All modular units are thoroughly tested before leaving the factory, so they are guaranteed to work correctly once they are commissioned—another factor that saves substantial time and manpower.
For many modular fabricators, shipping the completed unit is the end of their process. However, PCX often sends technicians or project managers to serve as facilitators for final installation on site. Although the actual electrical connections are standardized, having factory experts on site can be useful for offloading assemblies, positioning the module for installation or leveling a skid-based modular data center.
When choosing a vendor to deliver a modular electrical power distribution system or a modular data center, you can learn a lot from their step-by-step processes. You want to work with vendors who have a comprehensive design and assembly process that can adjust to your unique requirements. You also want to work with a vendor who can guarantee delivery times, as well as ensure quality of the finished product. The result will be substantial savings in time, cost and labor.