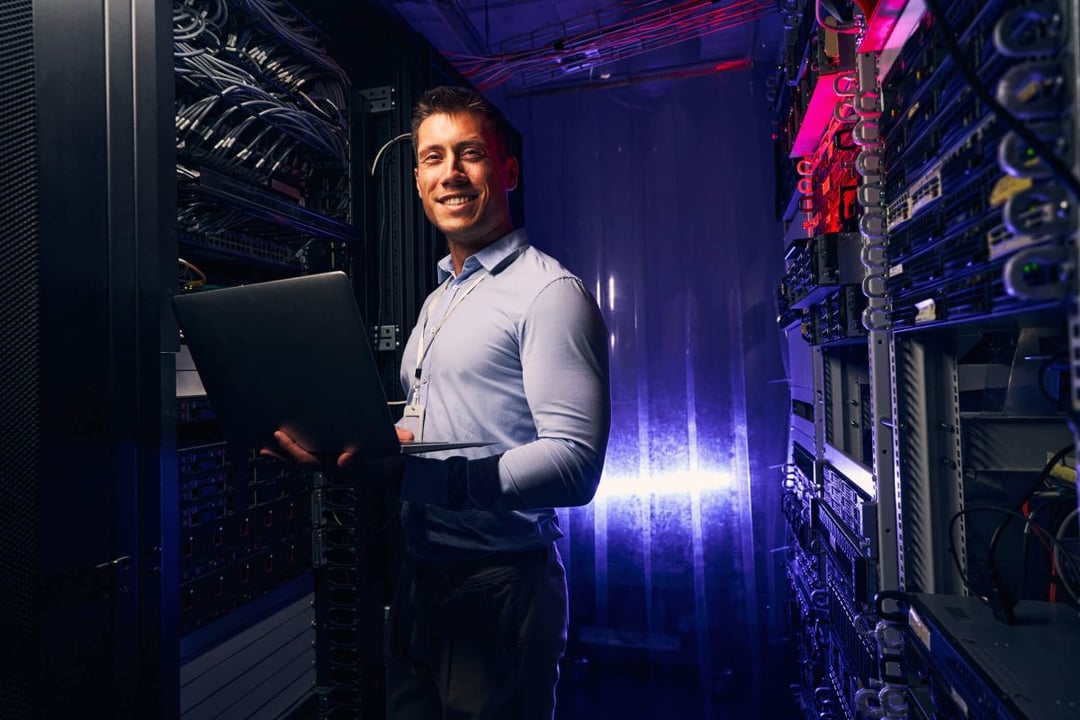 Choosing modular construction is a major step toward achieving faster deployment for your data center project. But there are additional steps you can take that will lead to a smooth, efficient process with your solution manufacturer and accelerate your time to value. Follow these tips to minimize delays in your next modular data center project.
Do as much planning as possible up front.
Investing time and attention up front to carefully plan your project will contribute to a smooth process and faster deployment in the long run. An organized approach can also help you keep costs within your budget and ensure you meet quality standards. Start working with your modular data center provider early so they clearly understand your goals and requirements and can design the solution and plan the project with these things in mind, thereby mitigating any potential issues that could get in the way.
During a time when many construction projects experience delays due to supply chain and labor challenges, it's also smart to conduct a risk assessment to plan for what could go wrong so these situations don't catch you off guard. Some of the strategies we'll look at below can help to mitigate these risks so you can meet challenges head-on without extending your project timeline.
Secure inventory in advance.
Some in the industry have reported dealing with eight-week delays for some components, such as servers, and waiting as long as seven months for certain pieces of core networking equipment. You can mitigate supply chain delays and speed deployment by securing the inventory you need in advance. There are two approaches you can take to accomplish this.
One approach is to purchase inventory in advance. This is a smart way to mitigate long lead times in projects where you have visibility into the components you know you'll need in volume.
Another approach would be to leverage manufacturers for a vendor-managed inventory arrangement. In this scenario, the manufacturer will prebuild solutions and place them in inventory for on-demand delivery. This strategy is especially helpful when your schedule is uncertain.
Work with a vendor-agnostic partner.
Because supply chain issues continue to affect many construction projects, it's helpful to be flexible and even prepared to switch to a different vendor if necessary to get parts or large components faster.
If a manufacturer is locked into using certain suppliers or their own original equipment manufacturer products, you could become limited by this single-source approach should that supply source experience shortages or delays. It's best to work with a vendor-agnostic manufacturer such as PCX, that designs solutions more generically and can pivot when necessary to source components from different suppliers to avoid delays.
Complete testing in the manufacturing facility.
The traditional approach to testing equipment involves the majority of the work being completed on-site. This can easily lead to schedule delays due to labor shortages or time-consuming troubleshooting on-site when a project is set to be completed. The industry is looking to modular data centers because they move some of the construction off-site and away from the critical path and because this approach can move acceptance testing and some of the commissioning off-site as well.
Conducting factory witness tests or factory acceptance tests in the manufacturing facility ensures individual components and the system as a whole are functional and safe before they arrive on-site. Supplemental electrical testing standards, such as those from the International Electrical Testing Association (NETA), require that individual components such as breakers be removed from the gear, tested individually, and then replaced in the gear. Logistically, this process is much more easily completed in a factory setting than at a construction site. Completing such testing ahead of time eliminates one more step to be completed on-site, allowing for an exceptionally fast deployment.
Proactively coordinate with the utility and AHJ.
With any construction project, you need to carefully consider all codes and regulations you must follow in your location. Utilities and authorities having jurisdiction (AHJs) all have their own unique requirements, which means you can expect at least subtle differences with any project in a new location. It's best if your modular supplier proactively works with the utility and the AHJ so that, once the equipment is delivered, you can quickly complete the project.
It's also helpful if your modular supplier can provide Underwriters Laboratories-certified products since this is a widely recognized standard. Seeing that a product is UL certified typically serves to accelerate the AHJ's approval process.
Understand the division of responsibilities in detail.
Lack of scope definition and delineation of responsibilities can cause delays, but these are avoidable—all it takes is clear communication with your suppliers. On larger projects, you may have multiple partners interfacing with one another, and their scopes of work must be aligned in a back-to-back fashion to ensure that where one party stops, another is responsible for picking up.
Know exactly what your modular data center manufacturer is handling and what is up to you so nothing falls through the cracks. For example, you may have the option to have their installation team handle the on-site work, or you may prefer to hire your own installers, in which case you want to secure a team of qualified professionals in accordance with when your manufacturer is required to deliver.
Maintain close communication.
Communication isn't just important at the start of a project. You should also stay in close communication with your manufacturer throughout the duration of the project, especially if changes become needed in the technical requirements or schedule. Regular status meetings will ensure that you connect with your supplier in a timely manner to discuss changes and ongoing status reports.
The right modular data center supplier will keep you in the loop and work closely with your team to ensure everyone is on the same page from Day 1 until your modular data centers are delivered and energized.
Take advantage of time-saving deployment strategies from PCX.
PCX is a modular data center provider that shares your goal of fast deployment. We work closely with your team at each stage of the process, from design to delivery, to ensure you get the product you need on time. We manage the whole manufacturing process as well as testing in our state-of-the-art facilities to remove variables and complications.
Want to learn more about our process? Check out our infographic, "What to Expect During a Modular Data Center Project."