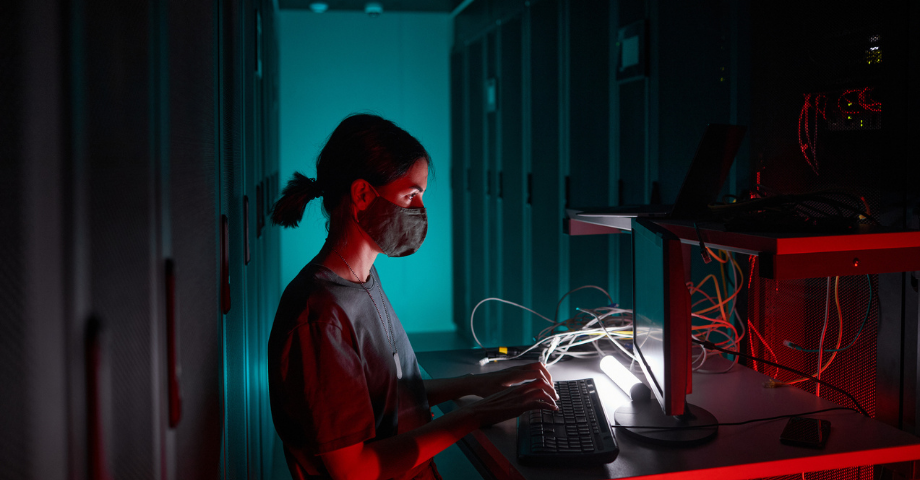 In early 2020, the global pandemic prompted a surge in demand for cloud-based computing and storage. Almost overnight, businesses, schools, healthcare providers and most of our social lives moved online, to slow the spread of COVID-19.
This dramatic shift in how we do business, learn and stay connected caused a dramatic increase in the data being generated that then needed to be stored, processed, managed and delivered. Data centers in hubs such as Northern Virginia, Seattle and Dallas experienced an explosion in capacity demand, which quickly filled existing colocation data center facilities and created a boom in new facility construction.
Assessing Post-Pandemic Colocation Data Centers
As more people are vaccinated and the health crisis begins to wane, data center owners will be analyzing what our "new normal" looks like, both from a business/economic standpoint and from a societal perspective. Both will have a dramatic impact on capacity demand.
In 2021 and beyond, one of the biggest unknowns for colocation data center operators is how opening the world back up will affect data usage and processing/storage capacity. Will there continue to be high demand or will the push to build new facilities and expand existing ones cause a surplus of unused capacity and unleased space in colocation data centers?
Although in-person activities are ramping back up, it's unlikely that data centers in primary markets will experience a precipitous drop in demand for capacity in the near future.
Remote & Hybrid Workplaces
During the pandemic, many businesses realized that they could reduce or eliminate a large portion of overhead costs by not retaining a physical office. By moving operations to the cloud, companies saved money on everything from electricity to data storage, and they were still able to create a secure, productive and collaborative environment for employees in the cloud.
According to a recent Gartner study, 74 percent of the CFOs surveyed plan to move some percentage of their employees to permanently remote positions. Companies including Twitter, Salesforce and Spotify have also announced plans for permanent flexible, work-from-anywhere options.
Accelerated Digital Transformation
Additionally, the pandemic accelerated digital transformation initiatives for many organizations. What was a five-year plan to move to the cloud suddenly became an immediate need. In fact, research from the IBM Institute for Business Value found that 59 percent of the organizations they surveyed sped up digital transformation due to the pandemic.
With digital innovation and unprecedented growth taking hold throughout the industry in such a short time, those companies will continue to rely on data center capacity to support their digital initiatives, and more companies will join them as the dust settles on budget and staffing.
What does this mean for colocation data centers? Although the flood of demand for capacity may begin to level out, demand will continue to remain higher than it was pre-pandemic.
Analyzing the Long-Term Impact of COVID-19 on Colocation Data Centers
The massive amount of data generated during the abrupt pivot to remote work in 2020 directly affected the colocation data center market. However, the pandemic also caused other, more indirect, impacts that will help shape the direction of the industry.
For example, when businesses closed the doors to their offices, there was no longer a need for employees to live in proximity to their workplaces. As such, many workers left the urban core in favor of less populated areas.
This movement away from main data center hubs created an opportunity for growth in secondary and edge markets, which are the perfect environment for colocation facilities.
For businesses of all sizes in almost all industries, slashed budgets and staff shortages are also part of the post-pandemic landscape. These are challenges that can be addressed in part by moving in-house data centers to colocation facilities, where organizations benefit from economies of scale, skilled on-site staff, increased data security and decreased latency.
Optimizing Colocation Data Centers for a Post-COVID-19 World
So where do we go from here? Unfortunately, there is no way to predict future capacity demand, and the anomalous nature of 2020 means we can't look to the past for guidance on the best way forward.
Trying to predict post-pandemic data and compute needs is only the tip of the iceberg when it comes to the unknowns data center owners are navigating. For instance, how long will the supply chain be unreliable? And is the skilled labor shortage going to get better or worse when businesses start opening back up?
We can't definitively answer these questions yet. Data center owners must adapt to the current situation and optimize their facilities using the most efficient, cost-effective, low-risk solutions available.
Construction materials are extremely hard to source right now, but now is when you need to begin construction on your new colocation facility. Modular data center construction is a smart alternative to the traditional stick-built approach, especially with critical materials and components in short supply.
Because modular data centers are manufactured in a controlled factory environment and delivered practically ready to plug in and go, there are fewer site delays, less need for skilled construction labor and no need to run time-consuming on-site testing.
The modular approach also alleviates the pressure to predict future capacity needs. Modular colocation facilities are easily scaled up or down to meet current demand, so there is no wasted space or stranded capacity.
With the supply chain tied up in knots, relying on a single vendor for components and construction materials is going to add significant lag to any project. Partnering with a vendor-agnostic data center design company frees up the design and build of your new or expanded facility, because no matter the source, components are interoperable. This speeds up time to deployment as well, since bottlenecks in the supply chain can be circumvented much more easily.
COVID-19 put the world in a tailspin, but as we collectively begin to find our footing again, there are a number of unknowns still to overcome. There is no way to predict whether the current data explosion will endure, so colocation data center owners must look for ways to grow responsibly and efficiently as we navigate what comes next.
To help you get a grasp on where the industry may be headed post-pandemic, download Key Takeaways from CBRE's 2021 Data Center Predictions and the Impact on Colocation for expert insight on the future of colocation data centers.