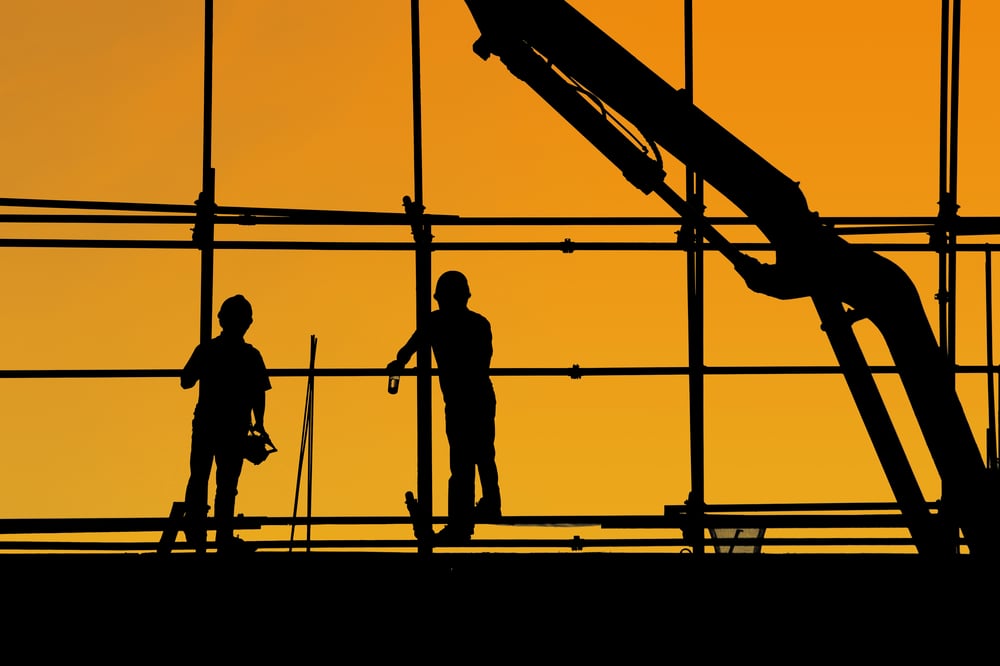 The novel coronavirus, COVID-19, has created an economic whirlwind affecting multiple industries across the globe. With businesses and their employees taking necessary precautions to battle the spread, each state invoking differing orders of shelter-in-place, mandatory restrictions placed on travel, and non-essential businesses closed, the global economy has been put on pause.
With the threat of a global recession on the horizon, experts are predicting negative growth for the United States markets in the first quarter of 2020, and an even more impactful decline in the second quarter. These forecasts are causing urgent, understandable concerns for the construction industry, including those within the data center sector.
The State of Construction
At this time, most states have deemed construction as an essential service or trade, with both California and Washington allowing construction projects to move forward, and allowing employees to continue to work, granted they follow new safety protocols for sanitation. However, for those businesses in New York, all non-essential construction projects have been stopped as of March 31, with only state-mandated infrastructural projects, transit facilities, utilities, housing and medical infrastructure development being allowed to continue. Boston has also implemented a building ban to limit the spread of the virus, with no forecast on when the ban will expire, which will lead to indefinite delays and funding cuts the longer the projects are kept in limbo.
With the uncertainty surrounding construction projects in different locales, and essential construction projects currently being the only initiatives to continue operating, how then is the data center market being forecasted?
___________________________________________________________________________________________________________________
____________________________________________________________________________________________
1. Data Center Construction is Essential
Even with certain states implementing building bans and large-scale data center manufacturers delaying projects due to the novel virus, data center construction through the pandemic is slated to continue. Data center construction, installation and maintenance has been deemed essential by The Cybersecurity and Infrastructure Security Agency (CISA), a subsidiary of the U.S. Department of Homeland Security, as data centers are part of the nation's critical communication and information technology infrastructure. In the CISA's official advisory memorandum, the organization recognizes those workers, designers, suppliers, transporters and administrators that "support the manufacture, distribution, and provision and construction of essential global, national and local infrastructure for computing services, business infrastructure, financial transactions/services, web-based services, and critical manufacturing," as essential critical infrastructure workers.
The CISA also designates those workers, field engineers, technicians, manufacturers and supply chain vendors that "provide hardware and software, support services, research and development, and information technology equipment," as essential. In addition, those companies and workers who are also providing electrical equipment, HVAC services and certifications for quality assurance measures have been recognized as essential critical workers during any and all building bans within the Unites States. This ensures that all major players in data center design, construction and installation are continuing to work and contribute through the pandemic.
2. Data Demand is Increasing Exponentially
The federal and state-wide shelter in place orders, as well as remote work and virtual classes have caused an instant increase in data demand and computing. According to Data Center Economy, both Microsoft and Google have seen an unprecedented increase in virtual data hosting services, such as Microsoft teams and Google Meet. Microsoft reported over 900 million calling and meeting minutes hosted on their teams' servers in a one-week span, signaling that data hosting and computing capacity demand are higher than ever.
While data demand is trending upward, companies are reporting spikes in internet traffic and bandwidth usage. According to CNET, with a 12% increase in video streaming, a 20% increase in web traffic and a 75% increase in online gaming, providers are beginning to suspend their service caps and plan for an even greater influx of data usage and transfers. So, what does this mean for the data center economy? Current hyperscale and large-scale data providers are going to need to increase their capacities to keep up with the expansive growth in data consumption and demand, necessitating more efficient and fast-to-market data centers during the pandemic.
3. Company Computing Capacity Will Increase
While previously cited as a major variable in overall data demand increases, the new emphasis on remote work has offered companies a staunch look at their network capacity's shortcomings. According to Data Center Knowledge, representatives from several online services have stated that their networks were not designed to sustain the current influx of traffic. Companies are sure to find that offering access to those remote workers who necessitate on-network critical applications, direct access to company housed files, software and video conferencing will put similar pressure on their internal data centers and cause them to consider one of two options to alleviate on-network challenges. Optimizing their data computing and storage capacity or utilizing a cloud service to host applications and data for their workforce. In either case, this scenario leads to a necessary addition in their data center infrastructure, as both the strain put on cloud services and those companies with a large number of their labor force now working remotely, both will need to add to their computing capacities to handle new network stresses and increased usage.
An Optimistic Outlook for the Industry
With data centers being deemed an essential construction initiative, data demand increasing at a record rate and companies looking to sure up their computing capacity, there is a strong sense of optimism for the industry. New and efficient data centers will be needed now, more than ever, as a great portion of our society quickly learns to rely exclusively on remote computing and distance communications to complete mission critical tasks to keep companies on track.
At PCX, we remain open for business, and are continuing to support our clients with their critical infrastructure projects while monitoring the impact of the pandemic. At this time, our top priority is ensuring the safety of our employees, customers, sub-contractors and vendors.
For updates on the COVID-19 virus, information and protective precautions, please visit https://www.who.int/emergencies/diseases/novel-coronavirus-2019.