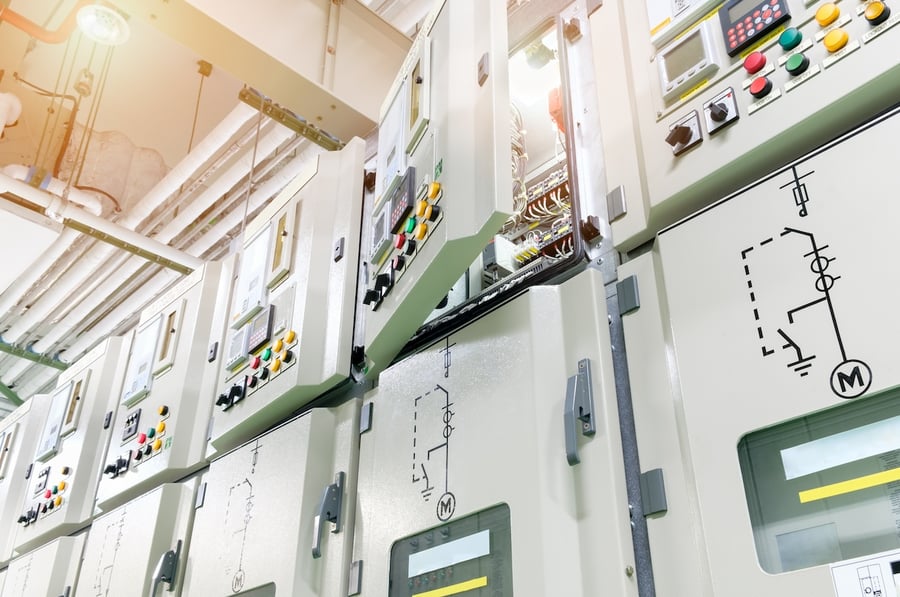 Commercial construction projects involve numerous key considerations, one of which is powering the facility. Integrated switchboards combine electrical distribution and controls that would otherwise exist separately into a single, fully functioning system. Let's explore the advantages of these integrated switchboards for commercial facilities.
1. Accelerated Implementation
Despite economic challenges, many industries are continuing to grow to meet increased demand. That's a positive thing overall, but construction projects for new and expanding businesses are also complicated by some current challenges. Construction companies are facing significant pricing hikes, material delays, and labor shortages. In addition to these current obstacles, construction projects are inevitably subject to issues such as weather delays.

These issues can cause a domino effect that ultimately stretches the timeline to completion of a construction project. Whereas traditional construction processes are vulnerable to delays, prefabricated construction moves processes away from the construction site to a dedicated manufacturing facility, allowing you to complete steps simultaneously and achieve faster time to completion of your project.

Integrated switchboards are factory-built and tested, so when the facility is ready for electrical infrastructure, the integrated switchboard is ready for rapid and simple deployment.
2. Simplified Installation
In addition to accelerating your construction timeline, off-site assembly minimizes the need for on-site labor and expertise. This can be a significant advantage in the face of skilled labor shortages, particularly when it comes to finding qualified electricians. The simplification of on-site work is one of the major benefits of any prefabricated electrical distribution solution.

Design is completed according to your specifications, and you get the chance to approve submittals prior to manufacturing, so there are no surprises. The integrated switchboard arrives complete and fully tested, immediately ready for feed and branch circuits to be connected. PCX products are Underwriter Laboratories (UL) certified, which helps to speed up the process of permitting and inspection by the local authority.
3. Compact Design
Integrated switchboards are designed to optimize space and functionality. Having all of your electrical components integrated into a single free-standing system reduces the footprint of the electrical equipment in most cases compared to individual components that are built on-site.

This leaves you with more usable square footage in your facility for revenue-generating purposes, such as hosting servers or displaying retail merchandise, depending on the type of business.
4. Reduced Risk
Using modular integrated switchboards also removes many risks that can affect stick-built electrical installations. As we've seen, this includes construction delays caused by factors such as materials and labor shortages and weather delays.
It also includes cost overruns. Cost overruns are typically not an issue with integrated switchboards because these systems are delivered as finished products, quoted at a fixed price. Manufacturers can lock in the price because the design is approved up front and the manufacturing process is predictable.
Choosing modular integrated switchboards also allows you to minimize safety risks inherent to on-site electrical work because much of this work is completed in a factory-controlled environment. Electrocutions are a leading cause of fatalities in the construction industry, and even in less serious incidents, electrical hazards can result in serious injury. Safety is always a critical point of emphasis on a job site, so working with UL-listed, pretested products also reduces safety risks on-site.
5. Tailored Products
You may worry that a ready-made solution confines you to predefined products with limited flexibility, but that is not the case when working with a manufacturer such as PCX. It is important to have the flexibility of a product designed to meet your specific requirements and achieve the very best fit for your application.
At PCX, our FLX-Power™ integrated switchboards can be manufactured according to standardized designs for fast and simple solutions, but they can also be purpose-built to accept all major manufacturers' components and are adaptable to site-specific requirements.
Partner with PCX for Integrated Switchboards
PCX is your source for integrated switchboards and electrical distribution solutions that deliver the benefits discussed above. PCX is an experienced manufacturer of prefabricated electrical solutions and modular data centers. Our ISO 9001 certified manufacturing environment, advanced product quality program (APQP) and UL-891 Listing ensure a high-quality product you can trust.

Want to learn more about switchboards and how they compare to switchgear? Check out our e-book, The Complete Guide to Switchgear.