Raleigh, NC – May 1, 2020 -- PCX has announced today that the company has shipped the first group of personal protective equipment (PPE) sterilization chambers to a global research and development organization, for deployment across the United States. The first order of 25 PPE sterilization chambers were manufactured and expedited over a two-week span to aid COVID-19 relief efforts, provide proper decontamination protocol for N95 respirators and actively mitigate the N95 respirator deficit. The medical industry project, coined "Project Lifeguard", will provide PPE sterilization chambers across 14 current operational states, including New York, New Jersey & California, with future sites in 18 other states.
PCX prioritized and expedited the development of PPE Sterilization Chambers to ensure the company could help provide a solution for the sparse availability of medical and industrial grade PPE equipment, specifically, N-95 respirators. The intended one-time use of these masks provides several challenges for healthcare facilities and those under-prepared to care for the number of patients currently seeking medical attention during the COVID-19 pandemic. By manufacturing PPE sterilization chambers, the respirators can be reused up to a maximum of 20 times safely, while assisting in allowing medical facilities to expand their available respirator supply faster and more efficient than manufacturing new respirators.
---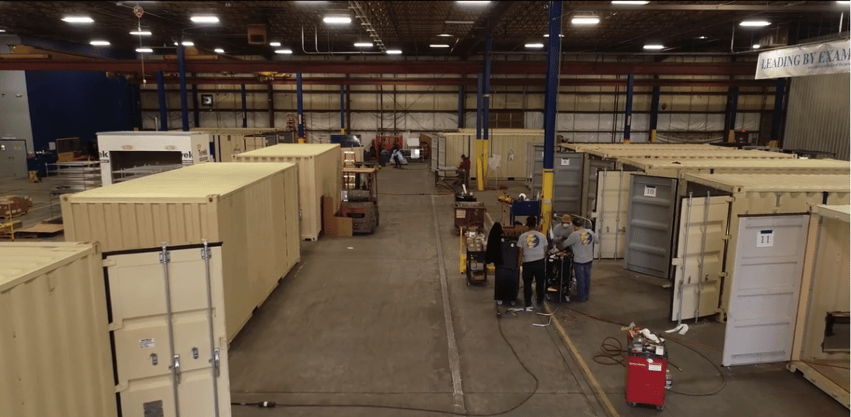 ---
Although the medical industry has not historically been a primary market for PCX, the corporation's engineering, manufacturing and quality processes are built and structured to optimally handle custom projects, like Project Lifeguard. PCX Director of Sales and Marketing, Rob Coyle, said the solution could not have been deployed in the time needed, using traditional construction methods, and instead necessitated an offsite construction approach. "By employing the advantages of offsite construction, we were able to build in a controlled environment, while operating under the CDC guidelines to contribute in a safe manner," said Coyle. "This took the risk away from working in the areas hit hardest by COVID-19 and allowed us deploy a turn-key solution that could be put to work immediately, to help our medical workers on the front-lines.
Coyle noted that in the ongoing effort to assist those medical and essential workers helping to combat the COVID-19 outbreak, PCX staff worked around the clock to fast track Project Lifeguard. "PCX made a commitment to meet the specification and deliver on time," said Coyle. "I applaud our team's efforts and their willingness to stay the extra hours and work harder to provide support to such a noble and critical cause in this trying time."
For official updates on the COVID-19 virus, information and protective precautions, please visit https://www.who.int/emergencies/diseases/novel-coronavirus-2019. For more information about PCX Corporation or any of its industry leading products and solutions, please call 919-550-2800, visit pcxcorp.com or network with us on LinkedIn.
About PCX Corporation – Build The Future More Efficiently™ – PCX designs and manufactures prefabricated electrical power distribution systems for the commercial construction, modular data center, and industrial/utility industries worldwide. Accelerate your construction with PCX's prefabricated modular electrical solutions today.
###