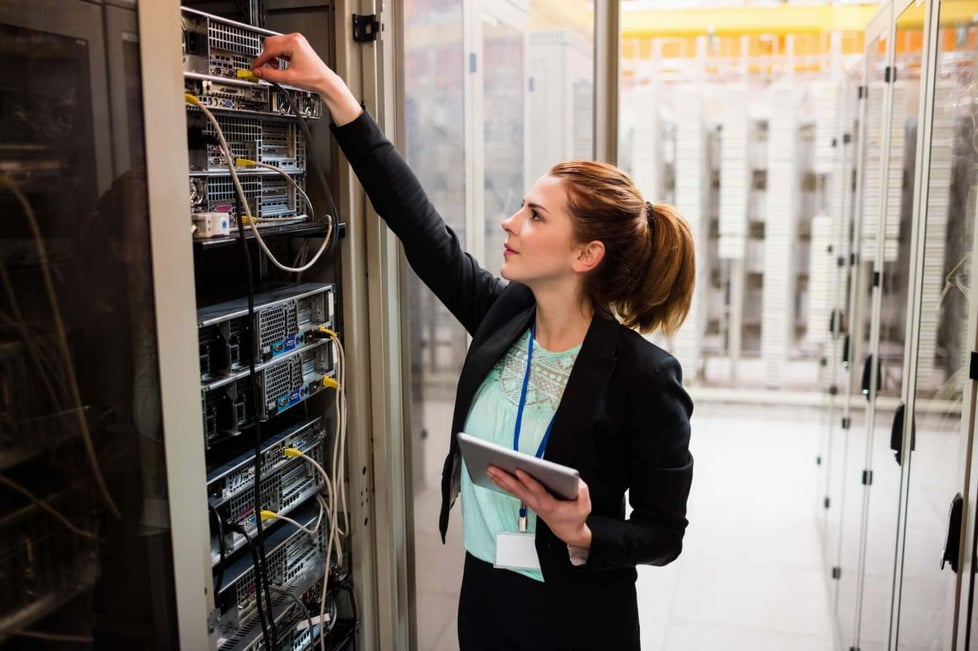 The data center industry is focused on timely issues such as sustainability, climate concerns and experimenting with new data center environments. Learn about these issues in our roundup of recent industry articles.
CNBC News
With so many data centers, Google is a major consumer of electricity. In 2020, the tech giant used 15.5 terawatt-hours of electricity, the majority of which was allocated to data centers.
However, Google has already made strides toward sustainability, with its latest power usage effectiveness (PUE) coming in at just 1.1. Google points out that this is well below the global average for large data centers, according to the Uptime Institute's 2021 Data Center Survey, which puts the average at 1.57. Google utilizes efficient equipment to help keep energy usage down, such as servers that emit less heat, and uses machine learning to strategically time cooling.
Google is pushing its commitment to sustainability further with a lofty goal of operating on 24/7 carbon-free energy by 2030. Google must take advantage of how energy is produced in order to meet this goal so, when considering a potential site for a data center, they factor in the sources that power the grid.
Maud Texier, the head of energy development for data centers at Google, explained that the company is concentrating on motivating change in the energy grid in order to achieve its goal. Michael Terrell, the director of energy at Google noted, "The 24/7 moonshot is just that: a moonshot. But it's not a pipe dream."
Learn more about sustainable data centers and the role modular data centers can play by reading "Going Green: Data Center Industry Moving to Green Data."
Data Center Knowledge
Semiconductor manufacturer Intel has announced a sustainability goal that has industry-wide implications: net-zero greenhouse gas emissions in its global operations by 2040. Intel is also committed to significantly reducing supplier emissions.
Intel's goal includes several interim goals to help them take steps in the right direction. Some of these goals are:
Switching to all renewable energy across its global operations
Investing roughly $300 million in energy conservation efforts across its facilities
Constructing new facilities to meet Leadership in Energy and Environmental Design (LEED) standards
Developing discrete graphics processing units (GPUs) that are five times more energy efficient by 2025
Making client and server microprocessors 10 times more efficient by 2030
Leading industry-wide research efforts to find lower-emissions chemicals and develop better abatement equipment by 2030
Lowering greenhouse gas emissions from its supply chain by at least 30 percent by 2030
According to Intel, meeting its goal will require the company to improve its products' and platforms' energy efficiency and will require it to decrease its carbon footprint.
Data Center Frontier
A recent survey from Vertiv provides some insight into data centers' approach to edge computing. One notable finding confirms the trend many are witnessing firsthand: Companies are increasingly shifting resources to the edge.
At the moment, survey participants are deploying 21 percent of their IT infrastructure at the edge on average, and they expect that percentage to reach 27 percent in five years. That's a 30 percent increase in a short time span.
The survey also found that organizations are adopting integrated infrastructure systems to help them meet demand at the edge. This is most evident in the fact that 40 percent of participants are planning to use—or are already using—integrated rack solutions or micro data centers. Additionally, 20 percent of participants are taking advantage of prefabricated modular data center systems.
There are different edge computing models companies can adopt. Knowing the model you're using can help with standardization to streamline new deployments. According to the survey, the micro edge model is the most popular one at the moment. This approach involves small data center installments of up to four equipment racks deployed at enterprise sites.
The survey also found that companies were focusing on sustainability in their edge data centers. The most common sustainability measures survey participants are implementing or are planning to implement include opting for energy-efficient uninterruptible power supply (UPS) systems (77 percent) and using renewable energy (40 percent).
Learn more about edge computing trends in "Top 3 Reasons Edge Computing Is Becoming More Prevalent."
Mission Critical
Maintaining uptime in the face of severe weather is becoming an increasing concern with an uptick in severe weather events, which environmental agencies predict will continue.
The consequences of severe weather can be dire for data centers. In an Uptime Institute intelligence survey, data outages from weather events cost more than $1 million on average for one in six respondents.
The importance of maintaining uptime has increased due to the growing reliance on data centers for businesses and individuals to function in their daily lives. Companies looking for a data center or colocation provider should look for one with protective service level agreements and disaster recovery (DR) plans to ensure they can maintain uptime even in the face of severe weather.
Data centers must mitigate the threats posed by severe weather to avoid catastrophic issues. They can do so by prioritizing routine testing, maintenance and upgrades to keep all critical systems running optimally.
Learn more about preparing for severe weather by reading "How to Plan for Natural Disasters During Data Center Design."
Data Center Dynamics
The Korean government is funding a pioneering project to create an underwater city, complete with an efficient underwater data center. Interest in underwater data centers has been piqued, with both the U.S. and China already having investigated this option.
In 2015, Microsoft first made a splash when it sank a rack of servers underwater and served Azure cloud operations from the sea bed. More recently, China's Highlander is hard at work on a commercial underwater data center that will operate 20 meters down without any humans on board.
Subsea Cloud in the U.S. is planning to sink data centers to even greater depths of 3,000 meters in order to enhance physical security. As data centers increasingly move to the edge on land, underwater environments may be the next frontier to watch.
Stay on Top of Data Center Trends with PCX
There's plenty to keep up with in the world of data centers. To stay abreast of the latest trends, be sure to subscribe to the PCX blog. We embrace innovation and are helping to drive the industry forward with our prefabricated modular data centers, skids and electrical gear.