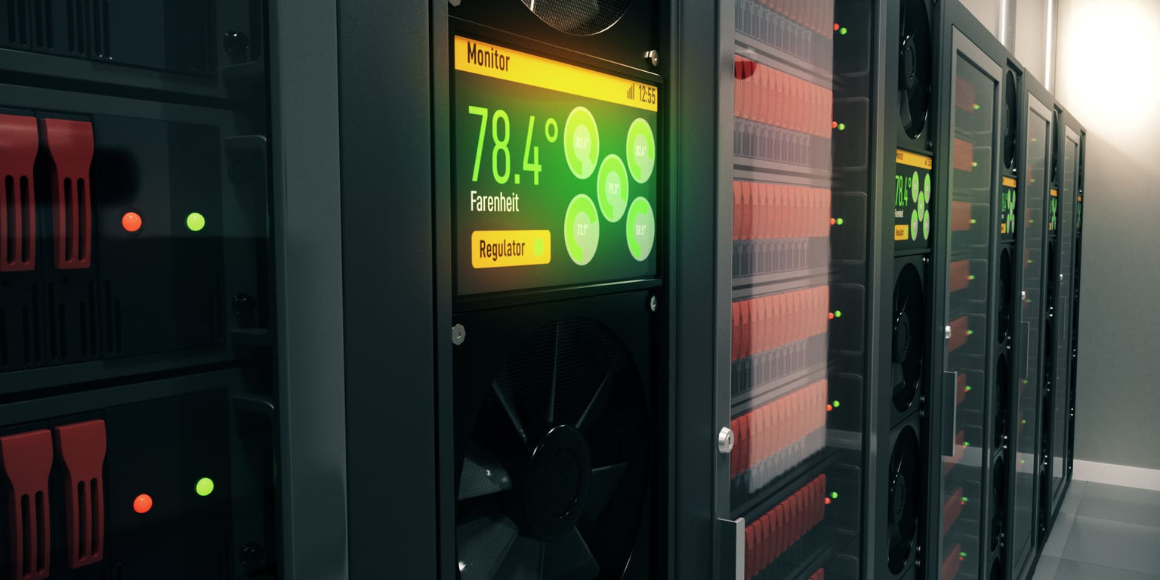 You may be familiar with the concept of an all-in-one modular data center (MDC), but what exactly constitutes the "all" in all in one? Let's look at the key components and systems that go into an MDC to make the whole unit functional, efficient and self-contained.
IT Racks
When you think of a data center, the first thing you picture is probably an IT rack. The IT equipment in a data center consists of the servers, data storage, network and applications for which the data center was intended. An all-in-one MDC isn't likely to provide the IT equipment, but it typically provides the racks to house the necessary equipment.
IT racks, or cabinets, hold the equipment in fixed positions and include places for power and network cabling to enter and exit.
IT racks come in a variety of designs. Some design features on IT racks may be intended to enhance security, cooling or other critical data center functions.
Power Distribution
Power distribution is key to any data center's functionality. A data center needs electrical infrastructure, such as a switchboard or switchgear, and electrical panels to distribute electricity throughout the data center to IT equipment, cooling equipment and more. This equipment also manages the flow of electricity to protect against possible electrical faults.
PCX MDCs utilize our FLX-Power™ integrated electrical systems, which are designed for a range of voltages and capacities depending on the various loads.
Uninterruptible Power Supply
Every MDC running critical applications should be equipped with an uninterruptible power supply (UPS) that continuously conditions incoming power to prevent surges and other anomalies. However, even with that safeguard in place, a backup power source is crucial to prevent data corruption, hardware damage and revenue loss in the event of a power outage.
The typical UPS is designed with approximately 10 minutes of battery backup to give the emergency generator(s) time to engage. An automatic transfer switch (ATS) facilitates the power transfer between the utility and the emergency generator to keep electricity flowing until the primary power source is restored.
Backup Generator
When the main utility power fails—which can easily happen in the case of severe weather or natural disasters, for example—data centers need another source of power. A backup generator (or generators) should be located on site. Generators must be able to support the electrical load of the data center, keeping IT, cooling and other equipment running reliably.
These generators are typically powered by diesel or natural gas, though some data centers are exploring alternative fuel sources, such as hydrotreated vegetable oil (HVO).
Cooling
Today's high computing demands mean MDCs generate significant heat 24/7. It is essential to keep IT equipment cool to prevent overheating servers and other components, which can reduce the life of the equipment and lead to extended downtime.
A robust cooling infrastructure is at the heart of every reliable data center. There are several data center cooling solutions available. Whichever technology you choose, one of the benefits of an MDC is that the cooling equipment is seamlessly integrated into the facility so that it is right-sized for your data center's density.
To enhance efficiency, most data centers employ a hot or cold aisle containment setup. This involves using a partition to separate the cold supply air from the hot server exhaust air, keeping cooling efforts more concentrated. This approach can also eliminate hot spots and provide a more consistent, predictable airflow throughout the data center.
Utility Points of Entry (POE)
Every data center has a point at which the power and communications services enter the structure, known as the point of entry" (MPOE). This MPOE may include the organization's internal network or fiber from one or more external providers.
Although the MDC end user is generally responsible for coordinating network connectivity, MDCs are constructed with penetrations and cable glands to enable cabling to be installed quickly and easily.
Cable raceway also simplifies the route cabling takes from the MPOE to individual IT racks.
Fire Suppression
Data Center fires pose a significant threat to employee safety, valuable equipment and business operations. NFPA code calls for every MDC to be equipped with a fire suppression system.
There are several types of fire suppression systems available, including water-based and dry, or gaseous, systems. However, selecting the system for your MDC will involve more than preference. You will also need to consider relevant codes, standards and insurance requirements.
Physical Security
MDCs house a high volume of sensitive personal and business data that must be protected. Whether your data center hosts your company's or external clients' data, security is imperative when sensitive personal and business information is at stake.
PCX's MDC self-contained units are equipped with secure entry points to ensure only authorized personnel can access the IT equipment inside. You can increase your data center's physical security perimeter by installing the facility in a secure, guarded location and using closed-circuit television (CCTV) security cameras.
DCIM
Performance optimization is a core objective for data center managers. Data center infrastructure management (DCIM) tools allow MDC operators to track key metrics and manage resource efficiency across the business and operational systems, the facility and the network.
For example, an MDC operator may use DCIM to monitor power usage effectiveness (PUE) and then apply that data to adjust cooling systems in specific areas of the facility.
Explore the Anatomy of a Modular Data Center
All-in-one modular data centers are designed to operate as highly efficient, self-contained ecosystems. MDCs consist of a multitude of components that work together to provide integrated system solutions that reduce overall costs, accelerate deployment time and maximize scalability.
Are you more of a visual learner? See these components in action in our Anatomy of a Modular Data Center interactive infographic!