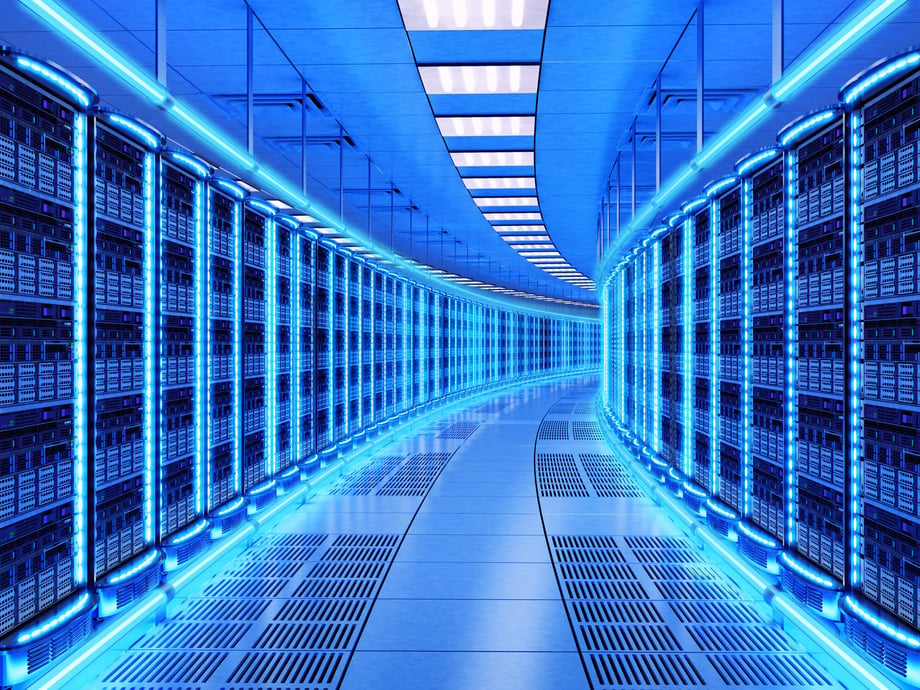 Nothing seems to change as fast as technology, and that includes data center trends. As demand for more analytics, data processing, and storage increases, data center infrastructures have to adapt. As a result, we are seeing new developments, such as modular micro data centers (MMDC), hyperscale data centers, and new modular data center designs. Here are just a few of the data center trends we see coming in 2020.
More Data Center Upgrades and Renovations
Demand for data analytics continues to increase. To accommodate new technology capable of handling more data, data centers are being upgraded. This is exemplified by the increase in microprocessor processing power, which means hotter computer chips. As rack density increases, data centers are looking for new cooling solutions, such as direct liquid cooling.
This is just one indicator of how quickly data demand is outpacing data center capabilities. New data centers need to be more extensible and agile to accommodate shorter tech lifecycles. They are also being designed to be more modular, which supports better scalability and plug-and-play systems.
More Demand for Hyperscale Data Centers
Bigger continues to be better, as more data is migrated from enterprise servers to massive cloud data repositories. Cloud services, like Amazon Web Service, Microsoft Azure and Google Cloud, are growing; and it's not unusual to see $1 billion to $3 billion spent on a single data center campus. For example, Apple intends to spend $10 billion on new U.S. data centers over the next five years.
America's IT infrastructure is becoming denser as more hyperscale data centers are being built to centralize data processing and storage. As a result, IT architects are rethinking data center design and finding new ways to optimize performance, especially for data in transit. On a global scale, computing is migrating to hyperscale data centers connected by low-latency link, in an effort to deliver anything-as-a-service.
Colocation Paying More Dividends
Colocation services are getting a new lease on life, thanks to both cloud computing and hyperscale data centers. Colocation provides an alternative to cloud and hyperscale that gives the customer greater control over their infrastructure by leasing space in someone else's data center.
Colocation is playing a new role in the value chain. Where hyperscale computing has issues such as data security and cost, colocation is more affordable. It provides a more cost-effective alternative to an on-premise data center, while still offering customizability and extensibility. It fills a necessary gap, providing a flexible alternative to on-premise data centers, cloud computing, and hyperscale data center services.
More Need for Computing on the Edge
The Internet of Things (IoT) is also changing the way IT managers think about data center infrastructure. Centralizing data in the cloud is great, until you have to deal with IoT at scale. Sending massive amounts of IoT data into the cloud or a central data center, and then back to enterprise servers, creates unacceptable latency. To improve performance, core computing functions are being pushed to the edge of the network, where the data is gathered and digital services are accessed. The results in faster response times, because data analysis and processing is decentralized, and handled by local hardware.
Edge computing is ideal for real-time data processing, required for certain types of equipment and devices (consider self-driving cars). According to Gartner, about 10 percent of enterprise data is being processed outside the data center, but that will grow to 75 percent by 2025. As more data is being sent for processing at a central location, latency increases. To handle real-time data traffic like IoT, edge servers or micro data centers will provide localized data processing where it's needed.
5G Infrastructure Is Here
Telecom carriers have been promising 5G wireless networking for some time, offering data transmission speeds that are 60 to 120 times faster than 4G. These speeds are also capable of supporting millions of wireless devices per square mile. As with IoT, this tsunami of wireless data is going to affect data center design, which will include adding more capacity to existing data centers, and considering additional computing options, such as colocation.
Rise in Modular Data Centers
Modular concepts are becoming more important to support all aspects of data center growth. This is especially true for providing local data storage and data processing at the edge of the enterprise, or as close to the data source as possible, such as at the foot of cellular towers. CB Insights estimates that the global market for edge computing will reach $34 billion by 2023, and much of that will be for installation of modular data centers.
Modular data centers are gaining acceptance within specific industries, such as manufacturing, agriculture, and energy. They are also gaining popularity with mobile network operators (MNOs) who need to deliver content faster to mobile subscribers, so they are caching more data closer to customers.
All of these trends speak to a need for more data processing power, which means expanding existing data centers and quickly deploying new ones. That's good news for the modular data center business. Modular data center designs make it easier to install high-powered computing centers anywhere. Modular data centers are also totally customizable and extensible, so they can be upgraded as needed for colocation installations, edge computing, or other applications. As data center requirements continue to evolve, you can expect to see a multitude of new modular data center designs, which is why network architects are looking for new ways to quickly and cost-effectively adapt to changing data processing needs.